This post is sponsored by Everywhere Agency; however, all thoughts and opinions expressed are my own.
The holidays are about giving and giving back. Growing up, I loved being able to participate in local gift giving programs that benefited families less fortunate that ours. My parents taught us the joy of philanthropy at a young age, even when we didn't have a lot of money ourselves. That is something my husband and I teach our children too: to always give back. This holiday season, consider buying a gift that not only gives back but also gives hope. Macy's Heart of Haiti offers beautiful handmade metal bowls crafted by artisans in Haiti. These individually handcrafted unique bowls would make gorgeous decor for anyone's home this holiday season.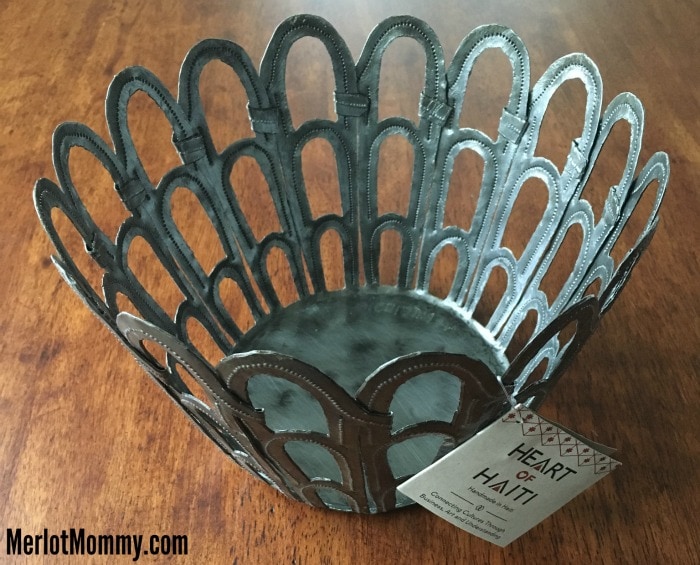 Macy's Heart of Haiti has been giving economic support to Haitian artisans ever since the devastating earthquake hit this economically fragile nation over 5 years ago. Shortly after the earthquake, Macy's began carrying this product line featuring an array of beautiful handmade goods crafted by artisans in Haiti. The country of Haiti is rich in the arts, and despite being the poorest country in the Western hemisphere, metal artisans, papier mache artisans, and skilled crafts people are anxious to work and earn a living to support their families. While other organization have come and gone, Macy's has remained in Haiti since shortly after the earthquake, deepening their commitment to this "Trade not Aid" initiative.
Macy's has joined forces with the artisans in Haiti to develop a beautiful product line for sale and began featuring this product line on Macys.com and in select stores shortly after the Haiti Earthquake. Here's a video that tells the story of how the project started and the difference it is making in the lives of Haitian artists.
The Heart of Haiti line of metal baskets is made in the small town of Croix des Bouquets by acclaimed metal artisans who have practiced this technique for years. The sales of these handcrafted bowls allow the artisans to feed their families, send their children to school, and better support their extended families. Artisans forge these bowls out of recycled oil barrels, pounding out intricate designs. Each bowl is unique and signed by the artist.
Haiti has an estimated 400,000 artisans (out of a 10M population) who rely solely on their handcrafted goods as a source of income. No other sector of employment even approaches such numbers. Macy's Heart of Haiti employs 550 artisans, providing economic support to their 4,500 extended family members and others.
Presently the Macy's Heart of Haiti line is only available online and at a few select Macy's stores: Herald Square, Downtown Brooklyn, Downtown DC's Metro Center, Chicago's State Street, San Francisco's Union Park, Downtown Seattle, Dallas Gallaria, Downtown Portland (Ore), Atlanta's Lenox Square, Dallas Galleria Mall, and Miami Dadeland.