On another recent press trip, I grabbed this super cute Groot mug.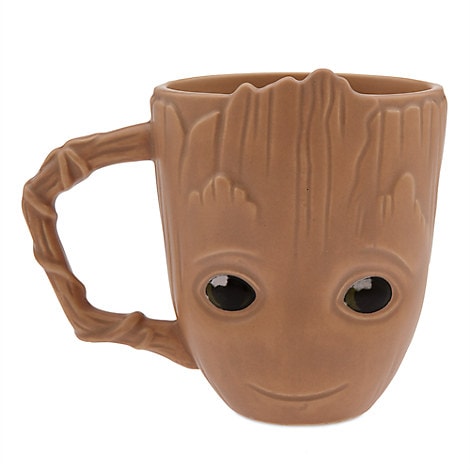 Not 30 minutes later I got an email saying I'd been invited to Los Angeles for the Guardians of the Galaxy Vol. 2 press junket (along with some other really cool activities). Emails from my Disney PR rep are always my favorite. This must be my new lucky mug.
Here's me when I opened that email:
My first Disney press trip ever was the first Guardians of the Galaxy movie in July 2014. Boy, a lot of entertainment trips have happened since then!
So, per the usual, we'll be interviewing some pretty rad people and having some pretty rad experiences.
Guardians of the Galaxy Vol. 2
For Guardians of the Galaxy Vol. 2, we'll be walking the Red Carpet and premiering the film at the Dolby Theatre and interviewing:
Chris Pratt ("Peter Quill" / "Star-Lord")
Zoe Saldana ("Gamora")
Dave Bautista ("Drax")
Kurt Russell ("Ego")
Michael Rooker ("Yondu") & Sean Gunn ("Kraglin")
Karen Gillan ("Nebula"), Pom Klementieff ("Mantis") & Elizabeth Debicki ("Ayesha")
Director James Gunn and Producer and President of Marvel Studios Kevin Feige
Guardians of the Galaxy Vol. 2 saves the galaxy May 5, 2017
Facebook | Twitter | Instagram
Born in China
We'll be screening Disneynature's Born in China (which my family loved! We saw it at DSMMC). You can read our review here!
Born in China is in theatres April 21, 2017.
Descendants 2
We'll screen and have interviews with the cast of Descendants 2, which will be fantastic. We loved the first one. I can't wait to see who we interview and what this movie has in store for us. My kids are addicted to the books and the first movie and music.

Premieres this summer on Disney Channel
ABC TV Event
We'll have a special preview screening of the series premiere and second episode of the new ABC series "Downward Dog," followed by a Q&A with Allison Tolman ("Nan") and Samm Hodges (Co-Creator/Executive Producer AND the Voice of "Martin," the dog.
Premieres Wednesday, May 17 at 9:30/8:30c on ABC
Who doesn't love Second Breakfast? We'll have a Second Breakfast in honor of "American Housewife" Katie Otto" and friends' favorite meal after their kids' school drop-off along with a special preview screening of a new episode of "American Housewife" followed by a Q&A and photos with Katy Mixon ("Katie Otto").
Tuesdays at 8:30/7:30c on ABC
Our ABC day wouldn't be complete with a little "Dancing with the Stars"! We'll have a Meet & Greet and Q&A with "Dancing with the Stars" Troupe members Brittany Cherry, Britt Stewart, Hayley Erbert, Brandon Stewart, and newest member Artur Adamski, followed by an easy & fun ballroom dance lesson lead by the troupe.
Mondays at 8/7c on ABC
Radio Disney Music Awards
We don't know the details yet, but we have been told there will be an RDMA interview, as well! Stay tuned!
Follow along on Instagram, Twitter, and Facebook for all the fun!
#GoTGVol2Event
#BornInChina
#Descendants2Event
#ABCTVEvent
#DownwardDog
#AmericanHousewife
#DWTS
#RDMA
I've been invited to an all-expenses paid trip to Los Angeles. As always, all opinions are my own.