I received a picture package in exchange for an honest review. All opinions are my own.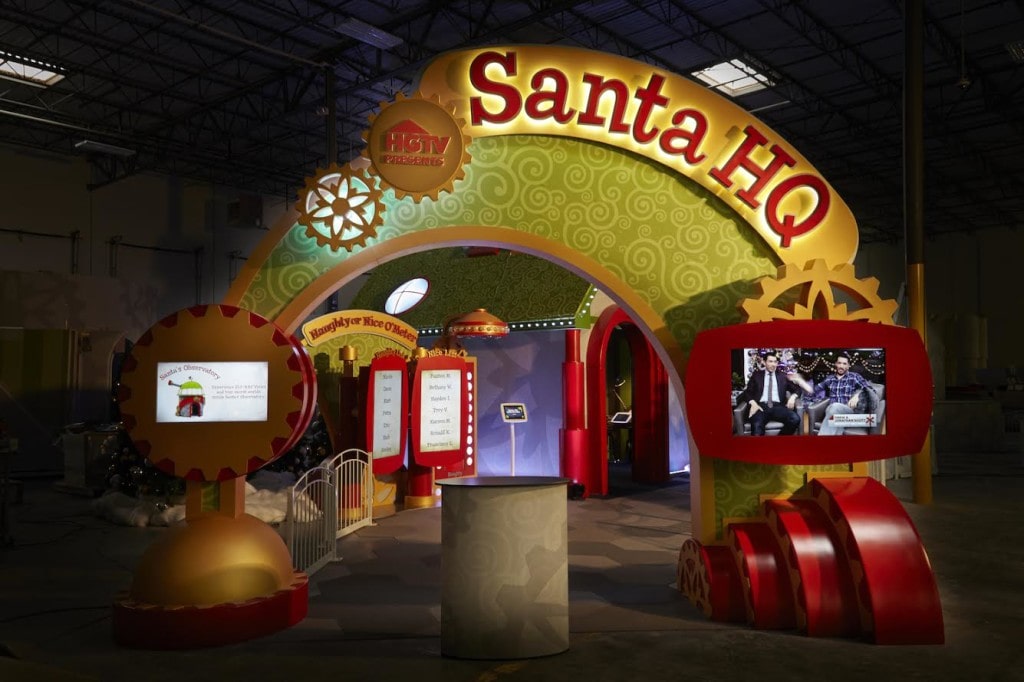 For some, it's too early for Christmas decor and events. For my family, we love that when Christmas season is upon us, that also means it's time for Thanksgiving and all things family and holiday. My kids had no problem going to visit Santa at the mall before Thanksgiving. Plus, on a day that you have shopping to do, visiting Santa can be a welcomed break for the task at hand. Last weekend we visited the HGTV Santa HQ located at the Washington Square Mall outside of Portland, OR.
We arrived at 10 am on a Sunday. The mall wasn't swamped yet, but if you don't want to wait in a long line, you can make your reservation online ahead of time, so you're wait is minimal. The accommodate reservations and walk ups. This Santa HQ is fun for all ages.
Santa HQ offers a fun new twist on the holiday favorite visit to see Santa.
About HGTV Santa HQ
"Santa HQ provides a unique twist on holiday festivities, while offering fans a chance to touch and feel the HGTV brand in a whimsical way," said Shannon Driver, senior vice president, media strategies and partnerships. "We've enhanced the holiday experience at these top malls by creating a state-of-the-art venue for visitors to explore."
Upon entering the magical structure, families can enjoy the wonder of Santa's Workshop and Observatory by using innovative technology to customize their individual experience. Visitors can download the ELF-RAY Vision app or use a provided tablet to immerse themselves in the enchanting world of Santa HQ to see the night sky, the secret inner-workings of clocks and gears and to meet a playful pair of elves. By using their handheld device as a "portal," visitors can see and interact with stunning digital scenes surrounding them inside Santa's Observatory. Visitors can continue the adventure with a custom photo opportunity, followed by the ultimate moment with Santa inside his modernized sleigh. Visitors can reserve their experience time in advance via the Santa HQ website.
"Santa HQ reinvents the Santa experience at the mall for a new generation of digitally savvy, always-connected kids and their families," said Ken Volk, Senior Vice President and Chief Marketing Officer, Macerich. "With HGTV, we are bringing a dramatically new and engaging holiday attraction to shoppers.  We know that people come to the mall for one-of-a-kind, in-person experiences they can share in real time and through social media – and the exciting new Santa HQ delivers exactly what families want today."
Santa HQ will also feature "Sleigh Ride"—a featured track on the recently-released Pentatonix holiday album, That's Christmas To Me—as part of the experience's light show, which will play daily across Macerich's 10 properties. Additionally, Pentatonix will be performing at Tysons Corner Center onFriday, December 5.  That's Christmas To Me is available in stores and online, and will be available to those visiting Santa across the Macerich portfolio throughout the holiday season.
Santa HQ was conceived in collaboration with HGTV, Macerich and Pop2Life, a New York-based experiential marketing agency.