Are you looking for something to watch this weekend while you're home with the family? Can't think of something new to watch? We have a list of all the new hottest home releases on Digital and Blu-ray/DVD for you.
Hottest Home Releases
We've got a list of the hottest new home releases on digital and Blu-ray/DVD for you to keep yourself entertained this weekend.
This post contains affiliate links.
Photo Credit: Disney • Pixar
In ONWARD, teenage elf brothers Ian and Barley Lightfoot (voices of Tom Holland and Chris Pratt) get an unexpected opportunity to spend one more day with their late dad, embarking on an extraordinary quest aboard Barley's epic van Guinevere. Like any good quest, their journey is filled with magic spells, cryptic maps, impossible obstacles, and unimaginable discoveries. But when the boys' fearless mom Laurel (voice of Julia Louis-Dreyfus) realizes her sons are missing, she teams up with a part-lion, part-bat, part-scorpion, former warrior – aka The Manticore (voice of Octavia Spencer) – and heads off to find them. Perilous curses aside, this one magical day could mean more than any of them ever dreamed.
On Digital 3/20, Disney+ April 3
Photo Credit: Disney
In "Frozen 2," the answer to why Elsa was born with magical powers is calling her and threatening her kingdom. Together with Anna, Kristoff, Olaf and Sven, she sets out on a dangerous but remarkable journey. In "Frozen," Elsa feared her powers were too much for the world. In the highly anticipated sequel, she must hope they are enough. From the Academy Award®-winning team—directors Jennifer Lee and Chris Buck, producer Peter Del Vecho and songwriters Kristen Anderson-Lopez and Robert Lopez—"Frozen 2" features the voices of Idina Menzel, Kristen Bell, Jonathan Groff and Josh Gad.
On digital 2/11, Blu-ray and DVD 2/25
Photo Credit: Twentieth Century Fox
Spies In Disguise features super spy Lance Sterling (Will Smith) and scientist Walter Beckett (Tom Holland) team up to save the world when Lance is inadvertently transformed into a brave, fierce, majestic...pigeon!
Digital, Blu-ray, DVD 3/10
Photo Credit: LucasFIlm
The ninth and final episode in the Skywalker saga welcomed the return of original characters Luke Skywalker, General Leia Organa, Chewbacca, C-3PO, R2-D2, Emperor Palpatine and Lando Calrissian, along with the latest generation of heroes and villains, including Rey, Finn, Poe, BB-8, Maz, Rose, General Hux and Kylo Ren. Newcomers include Jannah, a new ally of the Resistance; Allegiant General Pryde of the First Order; and smuggler Zorii Bliss.
Digital 3/17, Blu-ray, DVD 3/31
Photo Credit: Focus Features
Jane Austen's beloved comedy about finding your equal and earning your happy ending, is reimagined in this delicious new film adaptation of EMMA. Handsome, clever, and rich, Emma Woodhouse is a restless queen bee without rivals in her sleepy little town. In this glittering satire of social class and the pain of growing up, Emma must adventure through misguided matches and romantic missteps to find the love that has been there all along.
Digital 3/20
Photo Credit: Universal Pictures
Twelve strangers wake up in a clearing. They don't know where they are -- or how they got there. In the shadow of a dark internet conspiracy theory, ruthless elitists gather at a remote location to hunt humans for sport. But their master plan is about to be derailed when one of the hunted, Crystal, turns the tables on her pursuers.
Digital 3/20
Photo Credit: Universal Pictures
After staging his own suicide, a crazed scientist uses his power to become invisible to stalk and terrorize his ex-girlfriend. When the police refuse to believe her story, she decides to take matters into her own hands and fight back. Digital 3/20
Photo Credit: Warner Bros.
After graduating from Harvard, Bryan Stevenson heads to Alabama to defend those wrongly condemned or those not afforded proper representation. One of his first cases is that of Walter McMillian, who is sentenced to die in 1987 for the murder of an 18-year-old girl, despite evidence proving his innocence. In the years that follow, Stevenson encounters racism and legal and political maneuverings as he tirelessly fights for McMillian's life.
Digital 3/17
Photo Credit: Universal Studios
Robert Downey Jr. electrifies as the man who could talk to animals: DOLITTLE. After losing his wife, he hermits himself away behind the high wall of his manor but is forced to set sail on an epic adventure when the queen falls gravely ill. Helping Dolittle in search of a rare cure are his rambunctious animal friends—including Chee-Chee (Malek), an anxious, self-conscious gorilla; Dab-Dab (Octavia Spencer, The Help), an enthusiastic but bird-brained duck; the bickering duo of cynical, neurotic ostrich Plimpton (Kumail Nanjiani, The Big Sick, "Silicon Valley") and chilly-but-chill polar bear Yoshi (Cena); as well as a headstrong parrot named Polynesia (Thompson).
Digital 3/24, Blu-ray/DVD 4/7
Photo Credit: Warner Bros.
It's open season on Harley Quinn when her explosive breakup with the Joker puts a big fat target on her back. Unprotected and on the run, Quinn faces the wrath of narcissistic crime boss Black Mask, his right-hand man, Victor Zsasz, and every other thug in the city. But things soon even out for Harley when she becomes unexpected allies with three deadly women -- Huntress, Black Canary, and Renee Montoya.
Digital and VOD 3/24
Photo Credit: Paramount Pictures
Sonic tries to navigate the complexities of life on Earth with his newfound best friend -- a human named Tom Wachowski. They must soon join forces to prevent the evil Dr. Robotnik from capturing Sonic and using his powers for world domination.
Digital 3/31, Blu-Ray/DVD May 19
Photo Credit: Lions Gate Entertainment
The true story of Christian music star Jeremy Camp and his journey of love and loss.
On Demand 3/27
&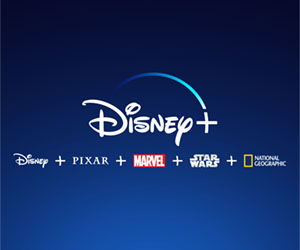 ;