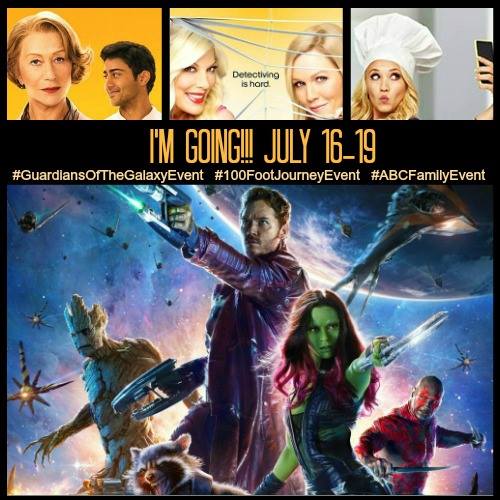 I'm a Disney Dork, what can I say. So when I open up my email and see something with this subject line:
"Disney, Marvel, DreamWorks & ABC Family Invite You to Los Angeles! 7/16-7/19"
…I get more than a little squealy and excited. At first I thought there may have been a mistake or that I misread the email. Nope. It was definitely for me. I'd been invited to my first-ever Disney press event, something I've been working toward for years! Squeal!!
I'm honored to have been chosen (along with 24 other amazing bloggers) to attend this whirlwind 4-day trip with incredible opportunities. This trip includes the film releases of both Marvel's GUARDIANS OF THE GALAXY and DreamWorks Pictures' THE HUNDRED-FOOT JOURNEY as well as the new ABC Family TV shows MYSTERY GIRLS and YOUNG & HUNGRY!
TV, and movies, and cooking, oh my!
Adventure, romance, kids, and comedy all rolled into 4 days.
Here's a line up of what I'll be doing, although it's only a tentative agenda with more to come:
ADVENTURE: Attend the press junket of GUARDIANS OF THE GALAXY (opening in theatres on 8/1) and interview cast and filmmakers from the movie. We don't know yet who we'll get to interview, but certainly Chris Pratt or Bradley Cooper would be fun (and easy on the eyes)!
ROMANCE: Attend a special advance screening of THE HUNDRED-FOOT JOURNEY (opening in theatres on 8/8) followed by an interview with actor Manish Dayal
Partake in a cooking lesson at Le Cordon Bleu Los Angeles inspired by the film
KIDS: Attend a very early advance screening of ALEXANDER AND THE TERRIBLE, HORRIBLE, NO GOOD, VERY BAD DAY (opening in theatres on 10/10)
Preview footage from the upcoming Walt Disney Studios animated release BIG HERO 6 (opening in theatres on 11/7) and do a Q&A with the filmmakers!
COMEDY: Go on the set of ABC Family's new TV show MYSTERY GIRLS to observe production and meet stars Tori Spelling and Jennie Garth who have teamed up again (we all remember Beverly Hills 90210, right?); meet the cast of ABC Family's YOUNG & HUNGRY staring Emily Osment; and meet the cast of ABC Family's CHASING LIFE
and more!
Follow me here, on Facebook, on Instagram, and on Twitter to see what transpires on this trip! The hashtags to join the conversation are #GuardiansOfTheGalaxyEvent, #100FootJourneyEvent, and #ABCFamilyEvent.