I participated in an Influencer Activation on behalf of Influence Central for KitchenIQ. I received promotional items to thank me for my participation. #IC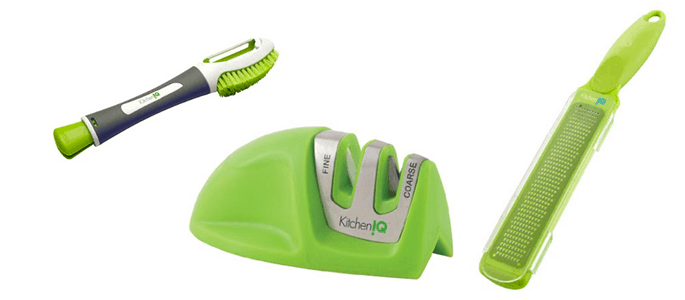 Kitchen gadgets. One of my favorite things in life. A good kitchen tool make me so happy. The right tool for the right job makes my work in the kitchen so much easier! And that makes my time in the kitchen that much more enjoyable!
Enter KitchenIQ and their line up of awesome kitchen tools. KitchenIQ carries an array of products aimed to make our lives in the kitchen more efficient and easier. KitchenIQ's Better Zester, Potato Tool, and Edge Grip Knife Sharpener are great kitchen gadgets that make my work in the kitchen so much easier!
The KitchenIQ Better Zester
features a stainless steel V-etched zester blade, which is great for zesting all kinds of citruses, as well as chocolate and nutmeg. Its blade is made of non-stick food approved coating for smoother zesting and easier clean up. It also includes a bult-in Fresh Zest container that includes measurements and holds the grated zest for less mess. So amazing!
The KitchenIQ Potato Tool
features non-stick stainless steel coated blades on the straight edge peeler and a paring knife and an ergonomic soft grip and non-slip handle. I love the two-in-one feature!).It has a built-in scrub brush for cleaning potatoes and other vegetables. The paring knife stores safely inside the peeler handle for safety.
The KitchenIQ Edge Grip Knife Sharpener
is one of my favorite new kitchen tools. It features a unique design as it sharpens straight edge double-beveled Euro/American style knives. It features two stages of sharpening in one small compact unit. The coarse sharpening slot includes carbide blades that quickly sharpen dull or damaged knives with just a few pulls. The fine slot's ceramic rods are ideal for finishing and polishing the edge and are perfect for light touch-ups to an already basically sharp knife.
I can use the KitchenIQ Edge Grip Knife Sharpener on my kitchen knives and my son has already used this to sharpen his camp knife for Boy Scouts. The Edge Grip Bottom allows stable sharpening on a counter top or edge of the counter top or table. The KitchenIQ Edge Grip Knife Sharpener is designed in the USA by Smith's Consumer Products, Inc., the Edge Experts Since 1886.
We tested the KitchenIQ Edge Grip Knife Sharpener at our party and sharpened a few paring knives. We also zested some lemons with the KitchenIQ Better Zester and were amazed at how fine the zest was! Incredible! My guests loved their new KitchenIQ Better Zesters.