I received a set of Robeez Soft Soles Collection to review. All opinions are my own.
My first impression of the Robeez Soft Soles Collection…heck yes! Call me superficial, but I'm a packaging kind of girl, and I must say, the box is great. Magnetic closure, durable cardboard, able to open and close repeatedly with a cute little handle.
Robeez are easy for my 2-year-old to put on himself, and they've become his favorite new accessory. Soft elastic straps at the ankle make them easy to slip on and off but stay put pretty well. The shoes are well constructed with super soft, buttery leather that is easily flexed and manipulated by busy toddler feet. These lightweight booties are perfect for indoor use and protect his feet without being cumbersome or interfering with the normal development of his feet. This company had developed a perfect shoe for infants and toddlers to wear without interfering with the normal growth process and mimics bare feet allowing for increased balance and mobility.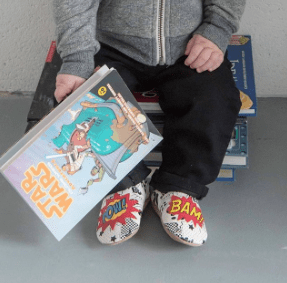 They have a wide range of sizes and designs for every little one from newborns and up with a size chart that makes it easy to locate which product size best suits your child. At Myrobeez.com, you can easily find what you're looking for based on season, style, gender, and size.
My little one loves Robeez Soft Soles Collection, and if he's happy, I'm happy. I definitely put this product at the top of my baby shower and holiday gift or birthday gift list for little ones!