I received samples for review as part of the #PlayLikeHasbro ambassador team. As always, all opinions are my own. This post contains affiliate links, meaning that when you click on a link that we recommend, we may receive a teeny weeny commission if you purchase a product. We wouldn't be doing our job to pay the bills if we didn't monetize somehow!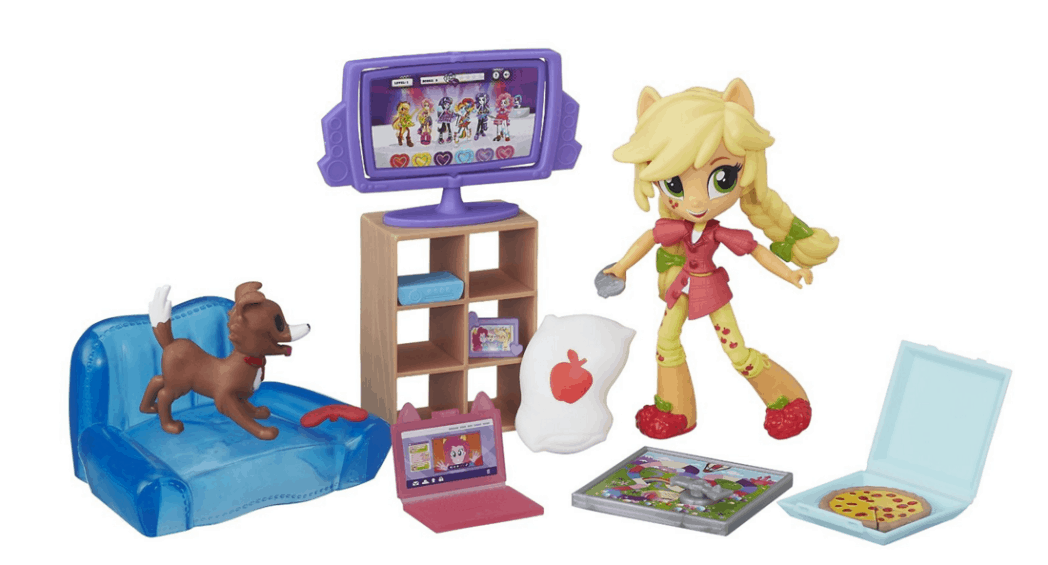 Do you have a My Little Pony fan? I happen to have three My Little Pony fans in our house. The My Little Pony Equestria Girls are gearing up for the most magical slumber party, and you're invited to join the friendship adventures bound to take place in this slumber party playset. My daughters were excited to learn all about the new My Little Pony Equestria Girls Minis Applejack Slumber Party Games Set! Just imagine planning the perfect game night with this cute, poseable Applejack My Little Pony Equestria Girls mini doll along with an adorable puppy figure, sleepover game, and snack accessories. This set features a fun chair for Applejack or her friends and accessories to set the scene for game time.
My Little Pony Equestria Girls Minis Scene Packs are available for other characters, such as My Little Pony Equestria Girls Minis Pinkie Pie Slumber Party Bedroom Set, which comes with fun slumber party themed accessories, such as snacks to enjoy while pretending to chat about the latest Canterlot High gossip, Pinkie Pie's cool canopy bed, and a purple desk and comfy chair for hanging out. It comes with a Pinkie Pie doll dressed for the slumber party.
Then in the Fall, help Pinkie Pie get ready for the Fall Formal inside the My Little Pony Equestria Girls Minis Rarity Slumber Party Beauty Set where Rarity can do their hair. Pose her in the salon chair and try on different hair and fashion combinations. Take a look in the vanity mirror to see which one looks best!
The My Little Pony Equestria Girls friendship adventures are fun-sized with My Little Pony Equestria Girls Minis dolls! Each collectableMy Little Pony Equestria Girls Minis doll is dressed in fun fashions and features articulated arms and legs, great for posing. Kids can collect 15 dolls throughout 2016, including  favorites such as Twilight Sparkle, Fluttershy, Pinkie Pie, Rainbow Dash, Applejack, Rarity, and even more of the Equestria Girls friends. Three waves will release this year: the Spring assortment features My Little Pony Equestria Girls Minis dolls dressed in their signature school looks, while the fall collections will introduce some new characters and features some additional school and dance themed dolls.
Each set sold is separately and is available at most major toy retailers nationwide and on HasbroToyShop.com.