MY LITTLE PONY THE MOVIE is now on BLU-RAY/DVD/DIGITAL! Bring the magic of the Mane 6 home today!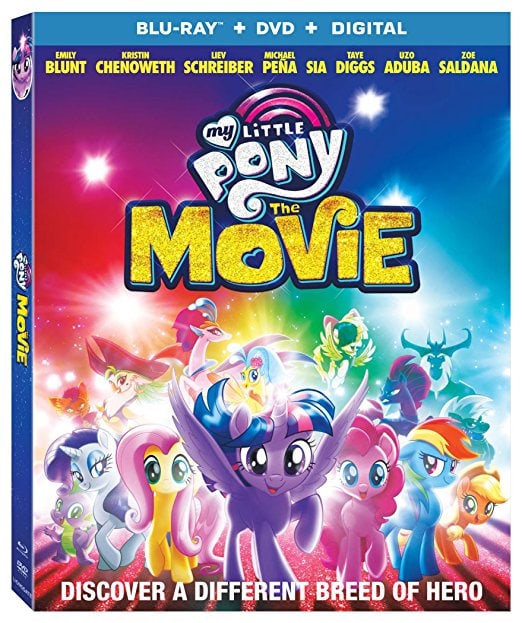 We love the special features on movies!
MY LITTLE PONY THE MOVIE BLU-RAY/DVD/DIGITAL SPECIAL FEATURES:
Deleted Scene
Equestria Girls Short
"Baking with Pinkie Pie" Featurette
"Making Magic with the Mane 6 and Their New Friends" Featurette
"The Journey Beyond Equestria" Featurette
"I'm the Friend You Need" Music Video (Sung by Taye Diggs)
"Hanazuki: Full of Treasures" Featurette
MY LITTLE PONY THE MOVIE
Join the "truly magical adventure" (Mike Reyes, CinemaBlend) of the Mane 6 and their new friends when My Little Pony: The Movie comes home on Digital December 19 and on Blu-ray™ Combo Pack (plus DVD and Digital), DVD, and On Demand January 9 from Lionsgate. Best friends Twilight Sparkle, Rainbow Dash, Pinkie Pie, Applejack, Fluttershy, and Rarity team up in their most epic adventure yet! This new installment of the global phenomenon features the Mane 6 voices of "My Little Pony: Friendship Is Magic" accompanied by Golden Globe® winner Emily Blunt (Best Actress in a Motion Picture – Musical/Comedy, Into the Woods, 2015), Primetime Emmy® winner Kristin Chenoweth (Best Supporting Actress, "Pushing Daisies," 2009), Golden Globe® nominee Liev Schreiber (Best Actor in a TV Series – Drama, "Ray Donovan," 2017), Michael Peña (The Martian, Ant-Man franchise), Sia, Taye Diggs (Chicago, "Private Practice"), Golden Globe® nominee Uzo Aduba (Best Supporting Actress – Television, "Orange Is the New Black," 2016), and Zoe Saldana (Avatar, Guardians of the Galaxy franchise).
Enter to win a My Little Pony Movie Prize Pack
We're giving away a prize pack with MY LITTLE PONY THE MOVIE and GLITTER & STYLE SEAPONY FIGURE – TWILIGHT SPARKLE. ends 1/22/18 1159 pm pst. US entrants 18+.