Thanks to AT&T for giving me a Tile and one to give away! I adore the Tile! As always, all opinions are my own.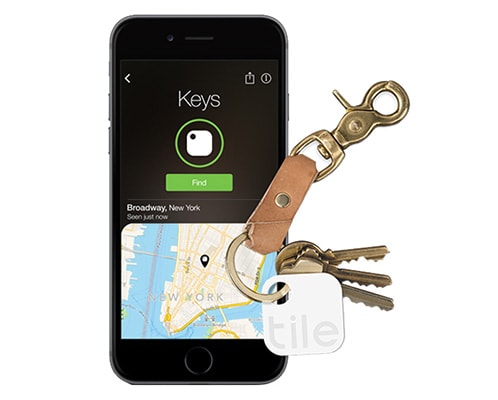 Have you ever lost your keys and spent hours looking for them? No? Well you're clearly more together than I am, because I've done just that on more than one occasion, and it's not like I'm disorganized or scatterbrained—just busy. Somehow the car keys get stuck in an odd place and it takes me precious time—and loads of frustration—to find them.
While lost keys didn't happen too often, now it never happens because I invested in the tiny Tile and downloaded the Tile App. I first bought the Tile back when it was just a Kickstarter Campaign and a dream. Now you, too, can order Tile and make your life so much easier through AT&T.
Tile App Headache-Saving Scenario and True Story:
As a mom of 4 kids and small business owner, I wear a lot of hats. One of those hats is Photographer, another is Taxi Driver, another is Blogger. Sometimes those hats create a little chaos. Sometimes, more than a little chaos.
So here's just one example of why I LOVE Tile.
I load my camera bag with all of the gear I need for an afternoon shoot plus a few personal essentials (wallet, keys, lip balm). I go to my photo shoot. I return home, drop my keys in the camera bag as I exit the car (normally they go in my purse, but the camera bag is my purse for the day), and set the bag aside.
The next day, a press loaner vehicle shows up, so I get new car keys. I drive that car for a week, so I have no need for my own keys and forget where I left them. I get other things from the camera bag, but not the keys.
A week goes by, the press loaner goes home, and the next day I need to go back to driving my own car again. I heck of a lot has happened in my loife in a week. I'm ready to leave the house for an appointment, but my keys are not in my purse or on the hook by the door (the two places they generally would be). I spend about 5 minutes freaking out, 10 more minutes searching for my keys. My husband offers me his keys (which is fine and dandy, but I've still not found mine).
And then the lightbulb in my head turns on: I've added a Tile to my keys and I have the Tile App on my phone. Within 2 minutes, I have located my keys, which were in the bag where I put them 8 days earlier but couldn't recall doing so. That tiny Tile bluetooth tracker and the Tile App saved me loads of additional time and even more frustration because I was able to locate the keys so quickly. I might still be searching for them without Tile. And the next time I lose my keys: BAM. Tile.

How Does Tile Work
The Tile sends a Bluetooth signal up to 100 feet (so unless you live in a mansion, this will work just fine in your house). Once you decide what you want to Tile, you sync the Tile to the Tile App on your phone. The Tile App tracks the Bluetooth signal and emits a melody. Kind of like the old "Hot and Cold" game from when you were a kid, the warmer you are, the louder the melody plays.
Tile is small, waterproof, durable, and designed to look cool while being amazingly helpful. The battery in each Tile lasts about a year. They can be attached via the hole or by using a double stick adhesive patch. You can learn more about Tile on AT&T's website.
Can't find your phone? You can use the Tile to ring your phone, too!

Community Find: Ask Others to Help
As if Tile couldn't get any better, they also have a Community Find program. You can help other people locate their lost items, too! For example, if I had lost my keys at a store, because they are Tiled, every phone in the network can help search for them. If you have Tile App running and walk by my missing keys, I would get a location update (and a glimmer of hope that I can find my lost keys). I can then use my phone and Tile App to find the updated location—down to the exact spot my keys ended up.
Get yours now from AT&T for only $25 OR 4 for $70 and never lose your belongings again. One reader will WIN ONE. Enter below!

Enter to Win a Tile!
I've teamed up with some of my favorite bloggers to give away a Tile! Two lucky readers will each win one Tile! Ends 5/9/2016, U.S. entrants only ages 18+. Use the Rafflecopter to enter below.