"She-Hulk: Attorney at Law" is now streaming on Disney+. "She-Hulk: Attorney at Law" is quick-witted, charming, and mindful in a way that every Shulkie will love.
She-Hulk Episode 2: Superhuman Law gives us another free comic book code, Abomination, mutants, and a new job for Jennifer Walters.
Here are your She-Hulk Episode 2 Easter eggs.
This is your spoiler warning if you have not seen episode 2 of She-Hulk.
SHE-HULK EPISODE 2 EASTER EGGS
Superhero Influencer Titania
Titania (played by Jameela Jamil, "The Good Place") will fit into some upcoming MCU properties.
In the comics, Titania is the current alias of Mary MacPherran, who first appeared in Marvel Super Heroes Secret Wars #3 (March, 1984).
After a party they attended went awry, Mary and her friend Marsha Rosenberg were found in the forests of Battleworld by the villain Doctor Doom. He was looking for recruits for his army of supervillains and offered the girls superhuman powers to accept his offer.
After Doom gave Mary superpowers, she instantly grew almost 1.5 feet, from a small 5-foot frame to a 6'6″ muscular powerhouse. She believed she was the strongest woman alive, so getting bested by She-Hulk didn't make her happy.
A long-time rival of She-Hulk in the comics, Titania has also gone up against Spider-Man, Hercules, Demolition Man, and the Fantastic Four.
At one point she joined Baron Zemo's latest incarnation of the Masters of Evil. Captured and sent to the superhuman penitentiary, the Vault, Titania escaped when Iron Man began the Armor Wars. Another break out later, Titania joined with the Wizard, Klaw, and Hydro-Man, to become the new Frightful Four.
A conspiracy between Loki and the Wizard, saw Titania free again, as part of Loki's Acts of Vengeance plan. Freed by Graviton, she was this time defeated by a collision with a speeding bus.
She-Hulk in the News
Jen's face is everywhere in the news. How did she get the name She-Hulk? A news anchor coined her new name, which she hates and doesn't want to stick. Call back to Episode 1 when Bruce told her you don't get to pick the superhero names, like Smart Hulk.
The Reasons NOT to be a Superhero
Jen tells Nikki that being a vigilante is for billionaires, narcissists, and adult orphans (Tony Stark).
Jen also questions if the Avengers get paid, or have benefits such as healthcare, maternity leave, or a pension. In "Falcon and the Winter Soldier," Sam couldn't get a loan despite being an Avenger; and he never got paid as an Avenger.
No one wants to hire Jen because she's a distraction. Bruce warned her being a superhero could be a challenge.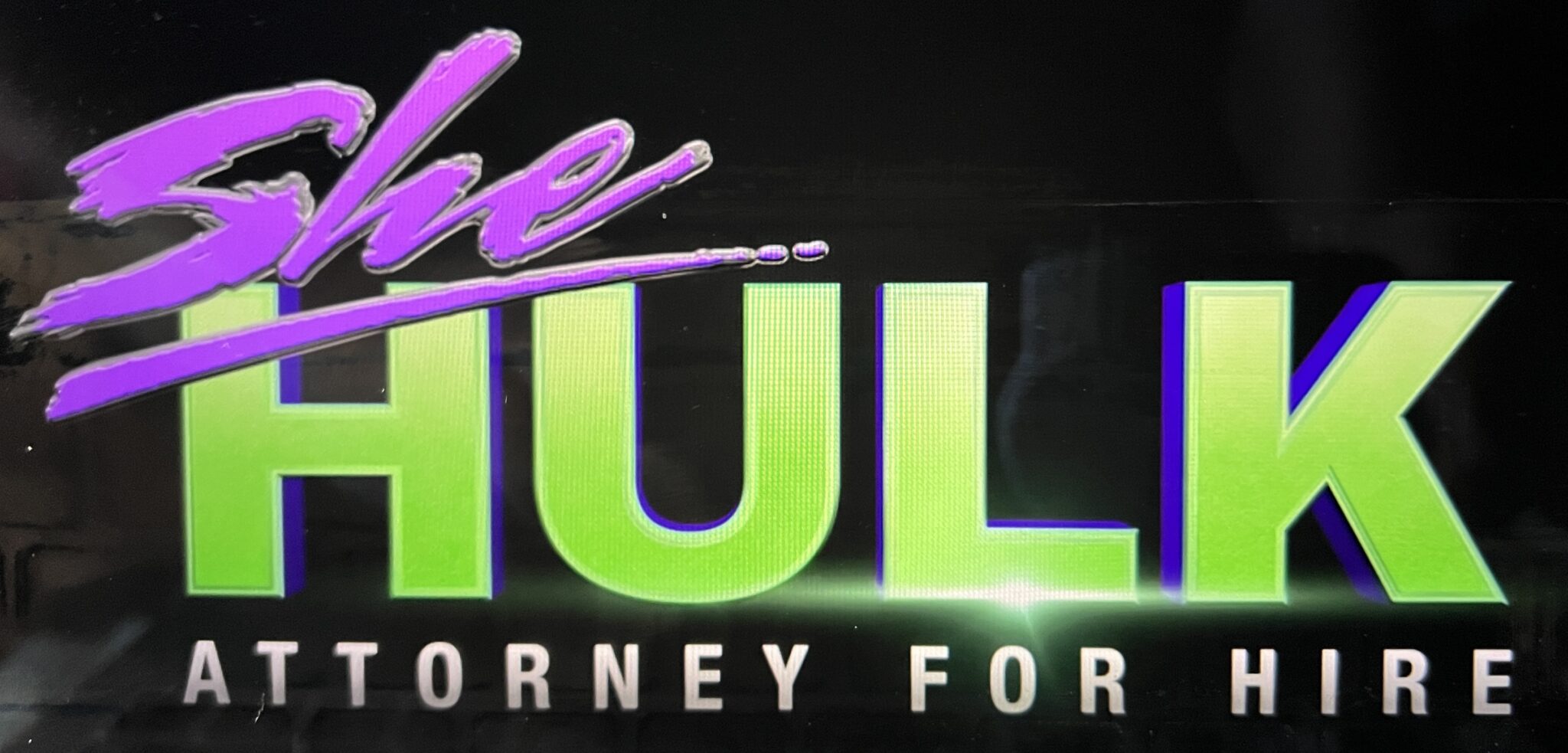 She-Hulk: Attorney for Hire
This episode's logo is slightly modified because of her employment situation: "She-Hulk Attorney For Hire."
Free Comic QR Code
When Jen and Nikki are looking for a new job for Jen, there is a QR code on for a FREE She-Hulk Comic.
Marvel Nods on Jen's Computer Tabs
On Jen's browser window are tabs for:
Find Ant-Man
Norse Mythology
Avengers
There is an ad for "Iron Man Three's Shoes"
Mutants in the MCU
Under the Related Articles section on Jen's web browser, there is a nod to Wolverine ("Man fights with metal claws in bar brawl").
Eternals Nod
Under the same Related Articles section as above, there's an article that is a nod to Eternals: "Why is there a giant statue of a man sticking out of the ocean?"
America's Ass
Jen's Lock Screen on her phone is a photo of Captain America's Ass.
At Jen's House
Jen's family home is #663.
Jen's dad, Morris Walters (played by Mark Linn-Baker, "Perfect Strangers," "Succession," "The Electric Company"), asks her questions about Hawkeye and what happens to his arrows. Does he collect them when he's done? This is one of the looks into the everyday lives of superheroes the show will address in each episode Director Kat Coiro talked about in her interview.
Morris reminds Jen this isn;t the first time the family has dealt with a Hulk in the family (Bruce) and at least she didn't destroy an entire city.
Family Cameos
Jen's mom Elaine Ann (Banner) Walters is played by Tess Malis Kincaid ("Ozark"). In the comics, Elaine is the sister of Susan Banner and Brian Banner and first appeared in Savage She-Hulk #15 (January, 1981).
Elaine's sister Susan married a man named Drake, and Brian married a woman named Rebecca, Elaine partnered with a County Sheriff named Morris Walters. Elaine and Morris had a daughter named Jennifer who would eventually become the superheroine known as the She-Hulk.
The details of her death are contradicted in the comics, as Elaine was killed by a drunk driver on the way to Jennifer's dance recital. Originally stated in Savage She-Hulk #4, Elaine had been killed by hitmen working for Nick Trask, but in Sensational She-Hulk #53 it is instead stated that she died in a car crash caused by a drunk driver.
Aunt Rebecca Banner (played by Elizabeth Becka, "Stranger Things," "Ozark," "Dopesick,") is Bruce's mother, married to Elaine's brother Brian. In the comics, Aunt Rebecca first appears in Incredible Hulk #267 (October, 1981). Varied storylines in the comics have Rebecca dead and then returning from the dead during the Chaos War.
Aunt Melanie (played by Candice Rose, "Stranger Things")
Uncle Tucker (played by Michael H. Cole, "Ozark," "Better Call Saul," "Cobra Kai")
Fuzzball
Bruce calls Jen Fuzzball again in his voicemail.
Holden Holliway and GLK&H
Holden Holliway offers Jen a job as the head of their Superhuman Law Division. He wants her AS She-Hulk, not Jen Walters, the opposite of the comics.
Emil Blonsky
The parole of Emil Blonsky (Tim Roth), aka The Abomination, is Jen's first case as She-Hulk for GLK&H. Holed up in a DODC prison. She's conflicted because Abomination tried to kill her cousin Bruce in The Incredible Hulk.
When Jen meets with Emil in prison, he tells her he chooses whether or not to be Abomination. He reveals he attacked Bruce under orders from Thaddeus Ross and that he was pumped full of the Super Soldier Serum, which caused his destructive nature. The same serum that was given to Steve Rogers to make him Captain America and that we see again in "Falcon and the Winter Soldier."
The Abomination is one of the main enemies of the Hulk. The original and best-known iteration is Emil Blonsky, who first appeared in Tales to Astonish #90.
Blonsky's Apology Letter
Jen calls Bruce to tell him about the Emil case and get his blessing. Bruce tells her okay with her taking the job because the fight was so many years ago and he's "a completely different person now, literally."
This is a nod to Mark Ruffalo replacing Edward Norton as Bruce Banner/Hulk in the MCU; it was the Edward Norton version of Hulk that Emil fought with in The Incredible Hulk.
Sakaraan Ship
When Jen is talking to Bruce about Emil, he's on a Sakaraan ship, probably the one that caused the accident in Episode 1.
Underground Fight Club Scene on the news
The clip of the Abomination in the underground fight club, while he should have been in prison, is a clip of the fight scene between Abomination and Wong in Shang-Chi.
Augustus "Pug" Pugliese
Jen's colleague in her new division is Augustus "Pug" Pugliese (played by Josh Segarra, "Arrow," "Orange is the New Black," "Chicago P.D.").
In the comics, Pug had a crush on Jen—both her human and She-Hulk forms. Despite his crush, he never asked her out.
SHE-HULK EPISODE TWO POST-CREDIT SCENE
Jen is helping out around her parents' house in her She-Hulk form.
Her cousin Ched (played by Nicholas Cirillo, "Stranger Things," "Outer Banks") is changing a tire. She's holding the car. She mounts a TV and then carries 6 5-gal water bottles for her dad at once.
END CREDIT ART
The watercolor comic art during the credits has a few of its own fun Easter eggs.
GLK/H
Poop here map from Pug
Other Cameos
Eyewitness (played by Derrick Haywood, "Black Lightning," Need For Speed)
Supermax Guard (played by Bruce Blackshear, Darkest Minds, "Black Lightning," "The Walking Dead")
Potential Employer (played by David Marshall-Silverman, "The Walking Dead," "Stranger Things,"
Pedro the Bartender (played by Vas Sanchez, "Cobra Kai," "Better Call Saul")
News Anchor (played by Jovana Lara, Chip and Dale: Rescue Rangers, "The Rookie")
About "She-Hulk: Attorney at Law"
In "She-Hulk: Attorney at Law," Jennifer Walters (Tatiana Maslany)—an attorney specializing in superhuman-oriented legal cases—must navigate the complicated life of a single, 30-something who also happens to be a green 6-foot-7-inch superpowered hulk.
Episodes 1 and 2 of "She-Hulk: Attorney at Law" are now streaming on Disney+.