Last week in Los Angeles we spent a fun morning of holiday cheer with ABC's 25 DAYS OF CHRISTMAS talent, including a special chat with three-time James Beard Award-winning pastry chef Sherry Yard of "The Great American Baking Show: Holiday Edition" and Carter Oosterhouse, judge and host on "The Great Christmas Light Fight."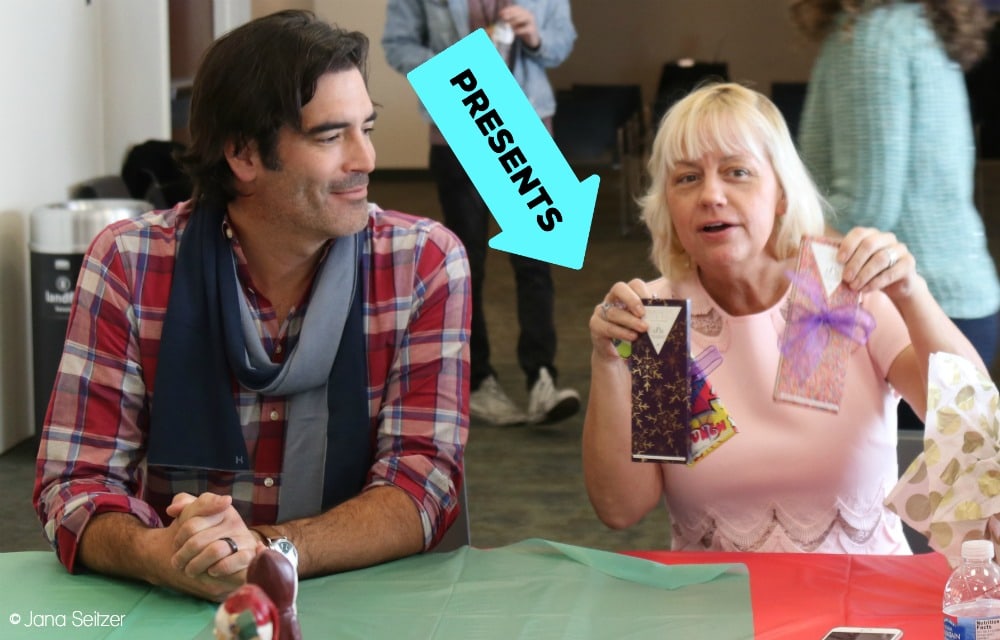 I loved that Carter and Sherry both showed up at our table with gifts! Sherry brought us decadent chocolate bars (gingerbread!) and Carter brought us Christmas light necklaces. So much fun. I mean, that alone qualifies them for the best interview of the day, right?
Carter said the Christmas light necklaces would be fun for us because he doesn't wear anything like that on the show. He said so many of the people on the show wear them, that he feels inadequate in his light display—he can't compete.

On oodles of lights
This past week was "the heavyweight episode," Carter said. "And that is somebody who literally designed their space with four million lights. Four million lights! I mean, that is just unbelievable, right? I do more like DIY stuff and craft stuff, being a designer-builder-carpenter, that's where my head is at."
"This show surprises me every time," Carter said. "Every time I go on it, I see something new and different and creative and unique, and that's the best part about it. And like the heart of the spirit of Christmas is there, so it's kinda hard not to really, really get into it."
Favorite holiday locations?
"We shot in London," Sherry said. "So I found personalities from different regions as it came out with the food. Whether it was with spice, we had some folks from California that had some exotic ingredients. And then we had more Midwesterners who stuck to some more traditional things. And, so it was kinda of regional cooking, or regional baking, which is interesting to see as well. And you can't compare—it's like apples to oranges, because they're equally delicious."

The one food Sherry Yard would eat for the rest of her life
You know that silly game we play. Pick a food, the only food you'd eat if you had to pick just ONE dessert for the rest of your life, what would it be.
"Ice cream. Ice creeeam."
The pastry chef didn't even pick a baked good. We were shocked. She wanted ice cream.
We cajoled her about her for a moment and she conceded a baked good, however.
"Okay, baked good. Baked good. Baked good," Sherry said. "I was just talking about my apple strudel. Homemade, like three different types of apples, tied to the season, buttery, crispy. And then I'd put ice cream with it."
On surprises and heartstrings
"I like kinda the weird stuff," Carter said. "What I mean by weird is like when it's different than what you would expect Christmas to be. So, when you see lights and blow molds and stuff like that, it's kind of traditional. But when you see stuff that is—where they can mix in dinosaurs, or they can mix in stuff that you would be like, 'Wait, what?? How did this —you have a helicopter that you figured out how to decorate? And why do you have a helicopter?"
"Different parts of the country definitely have different design tastes. All of them are unique to their own, and they're all the same Christmas spirit, which is fantastic."
"I think now more and more we get these heartfelt stories, not on all of them, but unique stories as well where the families have something to give and why they do it. For instance, in a segment that we just shot, they only spoke Spanish. That was unique to me, 'cause I don't speak Spanish. So, I had to understand, but at the end of the day, we all could understand love and holiday and cheer and Christmas. And that was pretty sweet and special."
"The Great Christmas Light Fight" airs Mondays at 8|7c on The ABC Television Network or streaming or on-demand.
"The Great American Baking Show: Holiday Edition" premieres on Thursday, December 6 at 9|8c with a two-hour episode, and will also be available streaming and on-demand after the premiere).
Thanks to Walt Disney Studios for bringing me to Los Angeles on an all-expense-paid trip. As always, all opinions are my own.