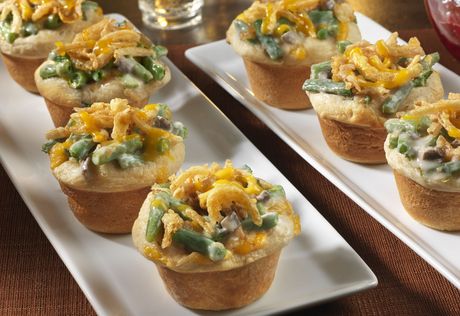 Thanksgiving is a time to give thanks. For our family, holidays are also about traditions. Some of those traditions include activities we do as a family; others are about the foods we enjoy as a family as we give thanks at our holiday meals.
Green Bean Casserole is one of our favorite Thanksgiving feast traditions. This year, we're going to try a recipe from Campbell Soup Company, approved by the Wisest Kid in the Whole World for Mini Green Bean Casseroles.
A fun and fabulous twist on the classic Green Bean Casserole, Mini Green Bean Casseroles are refrigerated biscuits crusts that hold the classic mixture of green beans, cream of mushroom soup, cheddar cheese, and fried onions. Yum!
Mini Green Bean Casseroles
What You'll Need
Vegetable cooking spray
4 cups cooked cut green beans
1 can (10 3/4 ounces) Campbell's® Condensed Cream of Mushroom Soup (Regular or 98% Fat Free)
1/2 cup milk
1 1/2 cups shredded Cheddar cheese
1 can (2.8 ounces) French's® French Fried Onions (about 1 1/3 cups)
2 packages (about 16 ounces each) refrigerated jumbo buttermilk biscuits (16 biscuits)
How to Make It
Heat the oven to 375°F. Spray 16 (2 1/2-inch) muffin-pan cups with the cooking spray. Stir the green beans, soup, milk, 1 cup cheese and 2/3 cup onions in a large bowl.
Roll each biscuit into a 4-inch circle. Press the biscuit circles into the bottoms and up the sides of the muffin-pan cups. Divide the green bean mixture among the biscuit cups.
Bake for 20 minutes or until the biscuit cups are golden brown. Stir the remaining cheese and onions in a small bowl. Sprinkle over the green bean mixture.
Bake for 5 minutes or until the cheese is melted. Let the minis cool in the pans on wire racks for 5 minutes.
Also, don't forget to ask the Wisest Kid if you're forgetting anything for your Thanksgiving feast. He's got lots of great ideas and easy recipes to round out your Thanksgiving meal!
This post is sponsored by Campbell Soup Co. All opinions are my own.