Who would have thought a silly kids movie would have had so much hidden (or not so hidden) meaning to it. The Nut Job 2 movie is riddled with political agenda and messages that even my nearly 10-year kids didn't miss. With a subtitle like "Nutty by Nature" I knew it was going to be a bit touché, and I was right.
Last weekend my family and I were able to see an early screener of The Nut Job 2. While entertaining and full of laughs, you can't help but miss some excellent morals and messages, as well as a few big political messages, mixed into the film.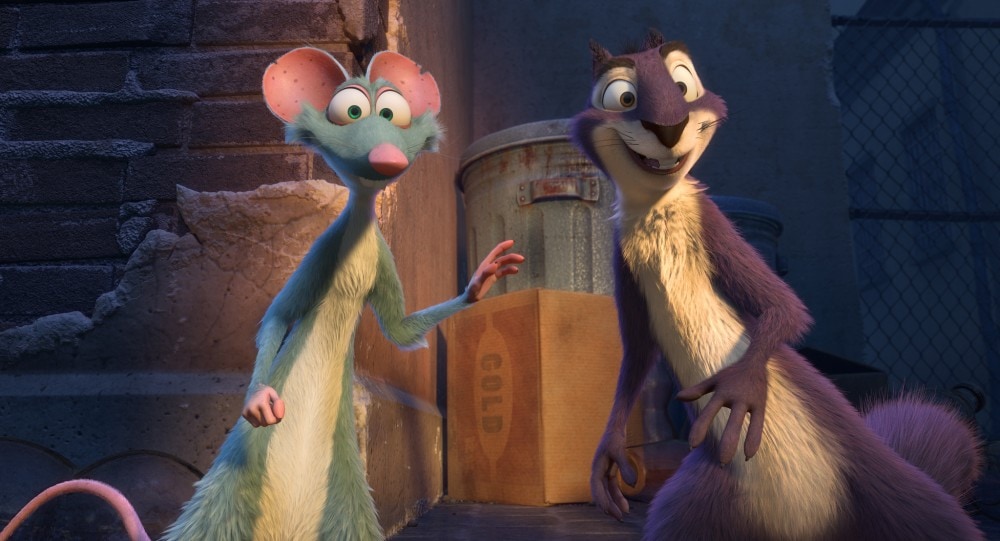 Surly Squirrel (Will Arnett) and the gang are back. After moving back into Liberty Park when the Nut Shop blows up, The Nut Job 2 brings us back to Oakton where the evil mayor (Bobby Moynihan) has decided to bulldoze Liberty Park to build a shoddy and dangerous amusement park in its place for the sake of making a fast buck. Surly and his ragtag group of animal friends including Andie (Katherine Hiegel), Precious (Maya Rudolph), and Mole (Jeff Dunham) band together to save their home, defeat the mayor, and take back the park. Along the way, they collaborate with Mr. Feng (Jackie Chan) a very cute city mouse (but don't call him cute or you'll be sorry) and his city mice ninja squad to take down the mayor.

Messages and Morals
While the movie is entertaining, and my kids liked it, it probably won't be in my top 5 movies of the year. That said, the political message and morals it encompasses should not be overlooked. The message of the "little guys" (the animals in this case) fighting the "man" or big bad mayor, in this case, is one we can all relate to in the current political climate. The mayor acts like a giant cranky toddler, much like the ruler supreme at the helm of our government.
When the Nut Shop blows up, Surly and the gang have to go back to foraging for nuts, something they aren't excited about. Andie reminds them, in a nutshell, nothing in life comes for free and that they have to work for what they want; there are no hand outs. A good lesson for kids and adults.
A Mom's View
There are a few jokes that will over the heads of the kids and there is one trigger warning for a near death moment, but no one actually dies (just mentioning it as a point of caution if you have sensitive kiddos because it can be upsetting.