Thank you to American Tourister for partnering with me to be an ambassador. As part of my ambassadorship, I'll be sharing the latest and greatest products from American Tourister with my readers. This post contains affiliate links, meaning that when you click on a link that we recommend, we receive a commission if you purchase a product.
Constant travel means wear and tear on your luggage. It also means that you're regularly at an airport needing to claim your luggage at the baggage claim carousel. Is that my bag? Nope. Is that it? Is that one mine? Nope. Oh, there it is. I love being able to have luggage that easily identifiable on the carousel but also durable and fits my style and personality. American Tourister has luggage that is perfect for every traveler. Their new iLite MAX suitcase takes travel to the limit! The new stylish design is fused with the latest technology to create a collection that is fashionable, lightweight, and fun.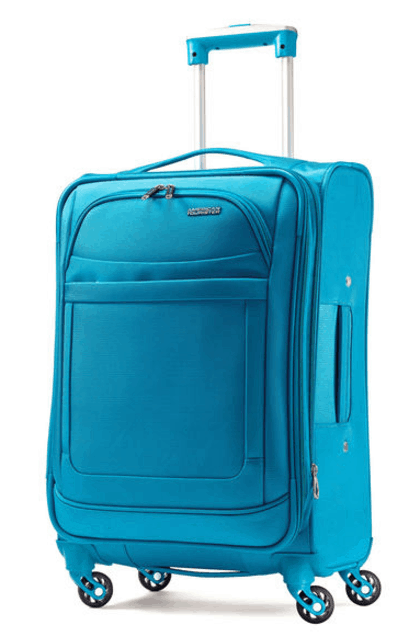 The American Tourister iLite MAX comes in four fun color options so you can make finding your bag easy and quick among the sea of bags on the baggage claim carousel. It holds up to trip after trip because of its 600 denier Poly/Nylon combination of polyester and nylon fabrics for durability. One of my favorite features is the four multi-directional airflow Spinner Wheels for easy mobility—I refuse to own a suitcase without them now that I've discovered how incredibly useful they are. No more teetering, tottering, leaning, or struggling with an unbalanced suitcase.
With a partially torn rotator cuff, I'm a fan of anything that can reduce wear and tear on my shoulder, so the fact that American Tourister's iLite MAX rolls upright so there is no weight on your arm or shoulder is a huge bonus for me.
As far as storage, there's plenty. The American Tourister's iLite MAX suitcase expands for added packing capacity, which is great for travelers who plan to bring back gifts or souvenirs or if you are attending a conference (or if your conference happens to be at Disney and you bring back work items and gifts for your kids because that totally happens twice this year). The co-molded zipper pulls make grabbing the zippers easy, and two large front panel pockets make for additional packing capacity. The suitcase only weighs 7.2 lbs. unpacked, leaving you ample weight allowance for packing. I can pack for weeks with over 40 lbs. of space in my suitcase!