Zed and Addison are back in the third installment of the ZOMBIES franchise. Just as much fun as the previous two movies, ZOMBIES 3 is packed with great tunes, excellent dance numbers, and a star-studded cast. Vibrant fun and rocking dance moves for a family movie night. Read on for our ZOMBIES 3 Review.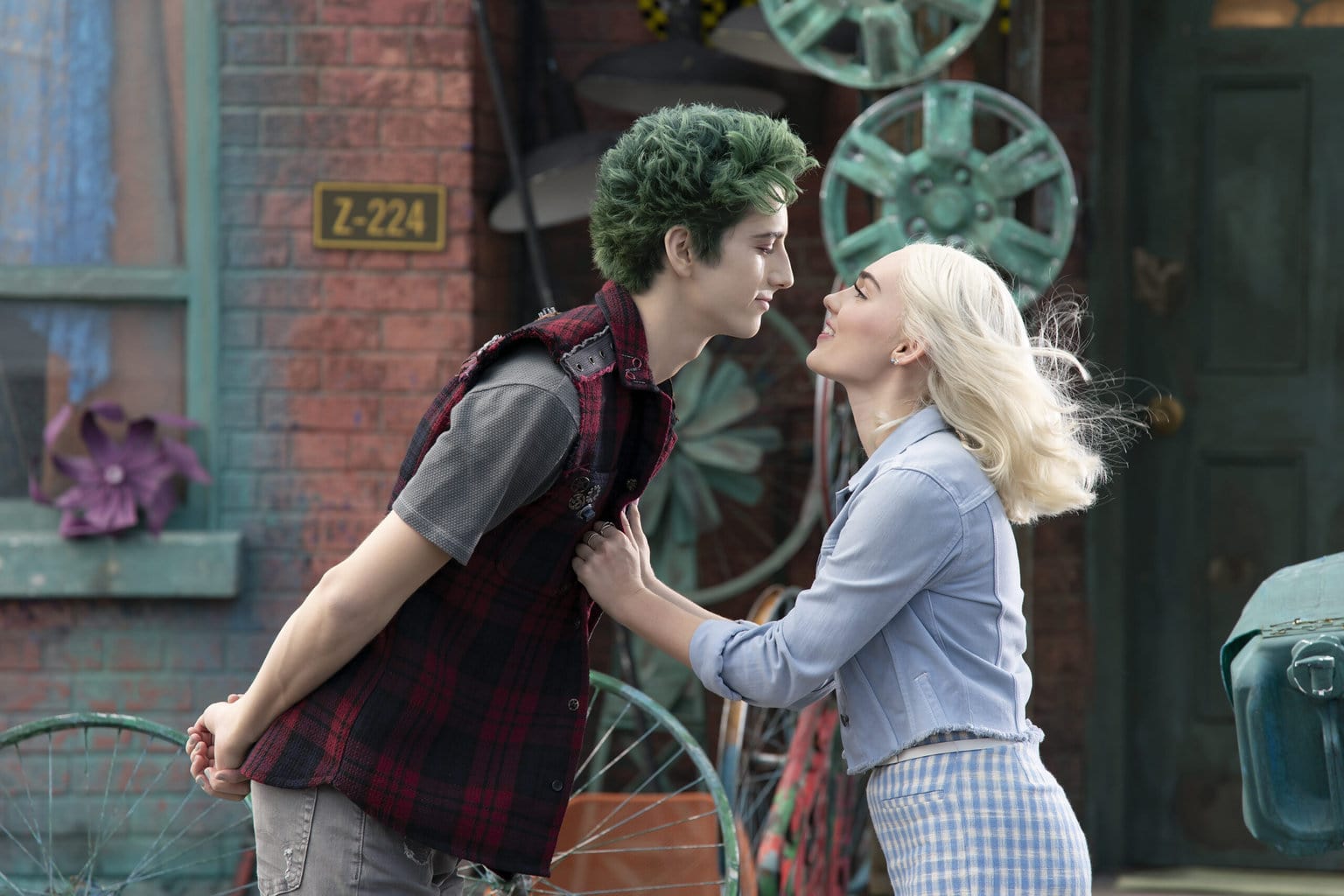 ZOMBIES 3 Review
Zed and Addison are enjoying their final year at Seabrook and things are better than they have ever been. It seems like the town has FINALLY accepted monsters as a part of Seabrook community, and Zed's future looks promising as he hopes to join Addison at college as the FIRST ZOMBIE EVER to attend college!
Seabrook is getting a brand new cheer pavilion and to celebrate the opening, Addison has invited cheer teams from all other the world to compete in an international cheer-off. What they didn't expect was the arrival of a crew of intergalactic alien outsiders. Turns out the aliens want more than just to participate in the cheer-off: they've come to steal the beloved Moonstone and boy have they made some of the locals, erm Werewolves, angry.
ZOMBIES 3 Review – What Works
ZOMBIES 3 is back with another super fun movie. A star-studded cast, great new music, choreography that's out of this world, and dance numbers that will make anybody shimmy and shake. We love seeing Milo Manheim ("Zed") and Meg Donnelly ("Addison") back together as the world's most adorable and unique couple. Their chemistry is just as perfect as ever and the new songs are some of the hottest earworms in our house.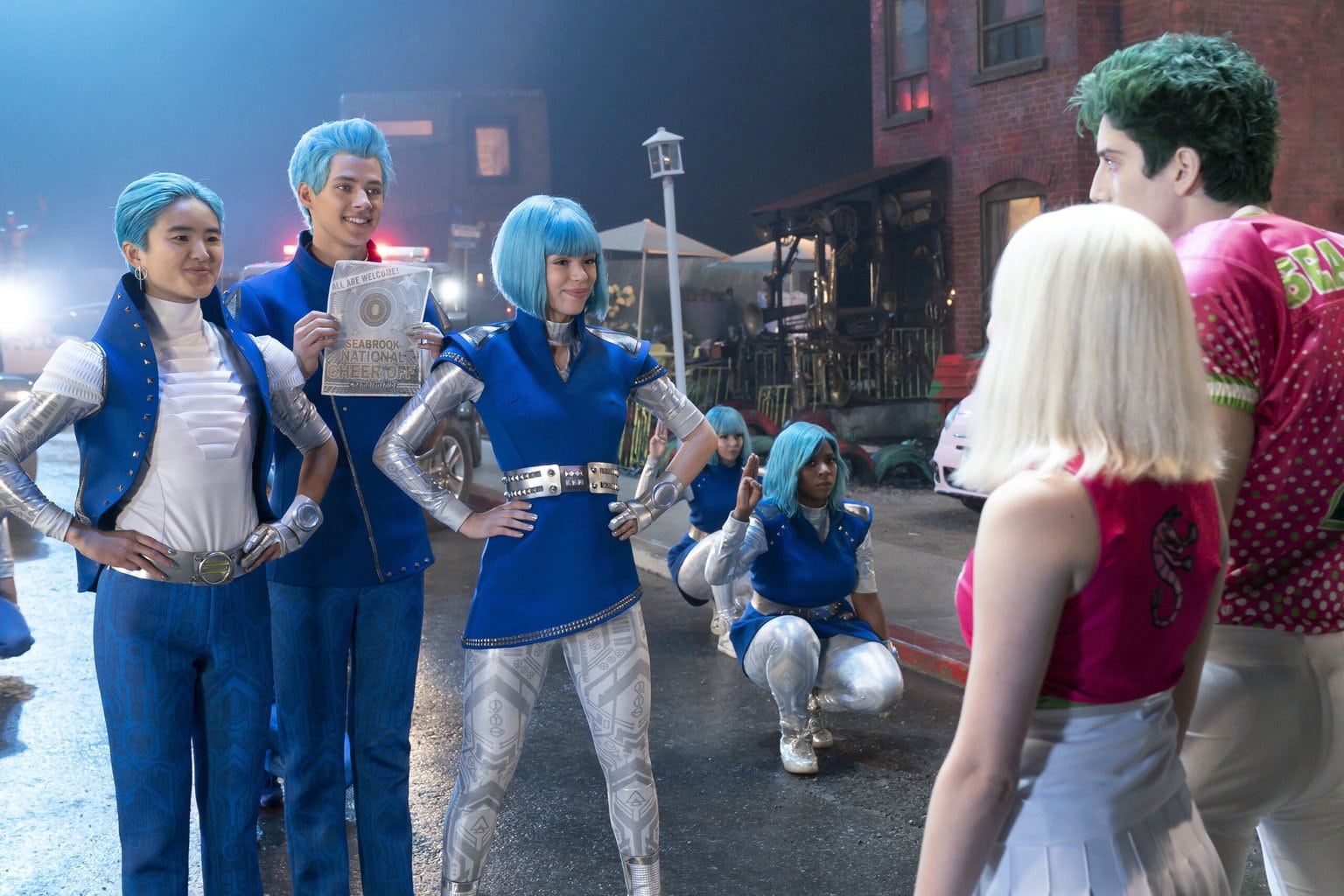 The addition to the cast, including aliens Terry Hu, Matt Cornett, and Kyra Tantao only adds to the superb cast. HSMTMTS fans will all be familiar with Cornett.
A fun movie with a great moral lesson is just what everyone needs this weekend for family movie night.
Watch the ZOMBIES 3 Trailer
About ZOMBIES 3
It's Zed and Addison's final year at Seabrook and things are better than ever. The town has finally accepted monsters as a part of Seabrook and has become a safe haven for monsters and humans alike. Zed is on the cusp of receiving a football scholarship and becoming the first Zombie to ever attend college (and he's excited to join Addison who has already been admitted). Addison is excited to mark the opening of the town's brand new "cheer pavilion" by inviting cheer teams from all over the world to compete in an "international cheer-off." However, the town is shocked by the arrival of a new group of intergalactic outsiders – Aliens, who show up to compete in the cheer-off. Though they begrudgingly allow the Aliens to stay for the competition – the monsters and humans of Seabrook grow suspicious when they discover that the Aliens may be looking for more than friendly competition. Some flashing light sequences or patterns may affect photosensitive viewers.
Director: Paul Hoen
Screenplay by: David Light, Joseph Raso
Executive Producers: David Light, Joseph Raso, Suzanne Farwell
Cast: Milo Manheim ("Zed"), Meg Donnelly ("Addison"), Chandler Kinney ("Willa"), Ariel Martin ("Wynter"), Pearce Joza ("Wyatt") Carla Jeffery ("Bree"), Trevor Tordjman ("Bucky"), Kylee Russell ("Eliza"), Terry Hu ("A-spen")
ZOMBIES 3 World Premiere is July 15, 2022, on Disney+
ZOMBIES 3 US Premiere is August 12, 2022, on Disney Channel