Water theme parks are the type of destination that can bring families together, no matter what ages your kids are. Heck, my husband and I will even hit a good water park without our kids.
Universal Orlando Resort's Volcano Bay water theme park is an immersive day of epic fun for all ages, but your tweens and teens will never want to leave once they enter the gates. With 18 attractions, there's something for everyone. Thanks to Universal Orlando Resort for hosting us so we could check out the new Volcano Bay!
Whether your tweens and teens like thrill rides, relaxing lazy rivers, or incredible food options, Universal's Volcano Bay is a must-do destination for families with tweens and teens.
Here are the top 9 reasons by Universal Orlando Resort's Volcano Bay is perfect for tweens and teens.

1. TapuTapu Wearable
The ability of this new wearable to limit your waiting times makes the theme park experience so much better. This new waterproof wearable virtually holds your place in line. Pick an attraction, ride, then choose your next one. Repeat the process all day long. We loved that you could eliminate the actually standing in line for, potentially, hours at a time as you would at some water theme parks.
In addition to creating a virtual queue system, TapuTapu is also your cashless wristband payment system at Volcano Bay. For easiest access, download the Universal Orlando Resort app on your smartphone before you get to the park, add a credit card to your account, and once you get to the park, you add your ticket and TapuTapu to your account. It was simple and such an easy way to make food and drink purchases throughout our stay.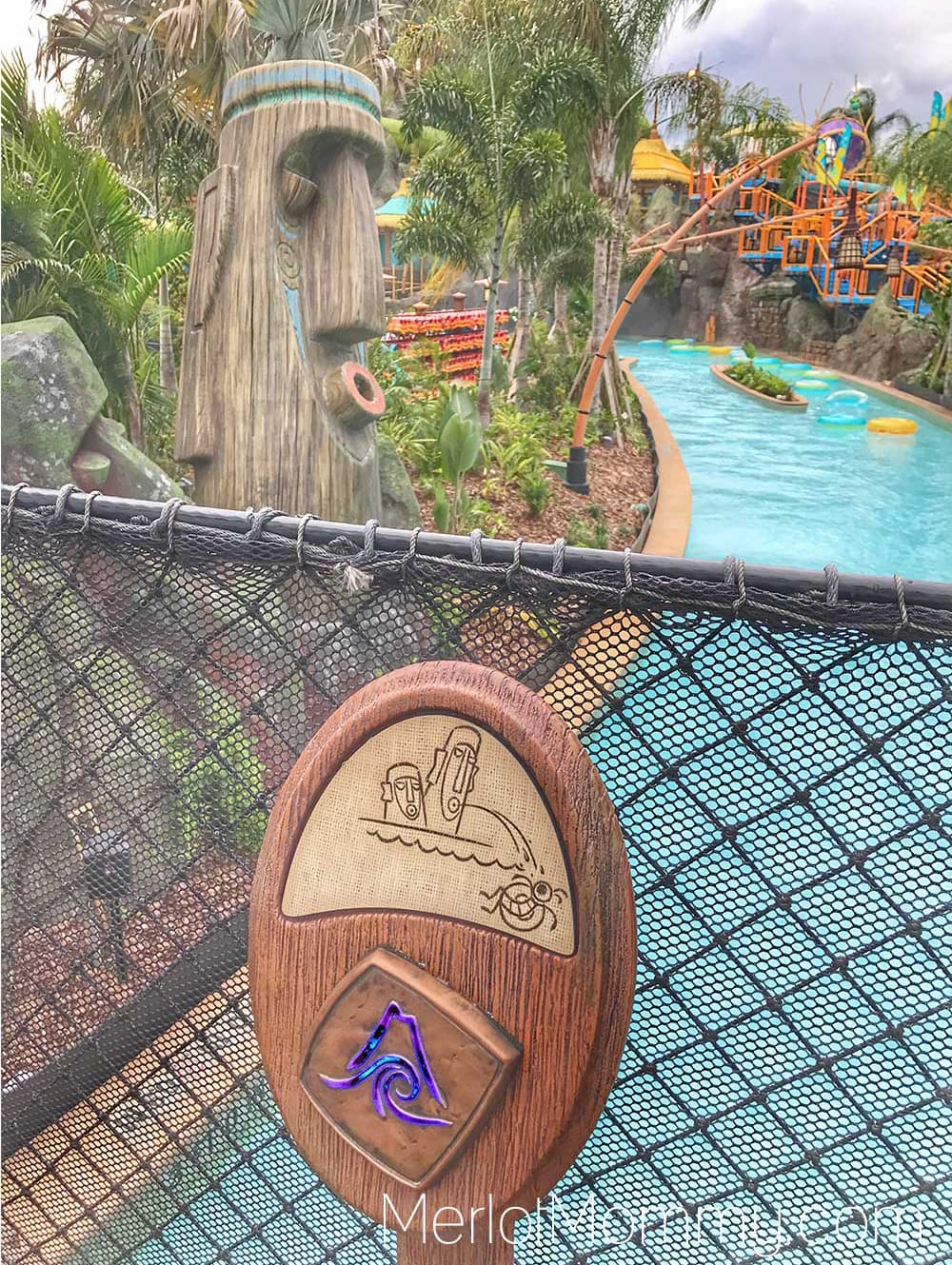 There are also a few spots in the park that offer fun interactive stations where you can tap your band and have a cool experience, like spraying water on lazy river riders!
2. Krakatau Aqua Coaster
The water coaster was our favorite ride of Volcano Bay. We rode it several times! Up to four peoples can ride in each canoe. You'll slide upward into the mists and darkness, twisting and turning within the volcano before you emerge with a giant plunge through a shimmering waterfall.
3. Ko'okiri Body Plunge
This body plunge is no joke. Like, seriously, no joke. I'm a thrill seeker, and I only did this one once. My daughter, too. At the top of the 200-foot volcano, the namesake of Volcano Bay, the 70-degree fall sends you plummeting 125 feet below through a drop door. The stairs you climb to get to the top reminded me that all those years of gymnastics and dance have taken their toll on my knee. I thought I was climbing to the top of the Statue of Liberty all over again.
4. Kala & Tai Nui Serpentine Body Slides
These body slides are a little intense. These twin trap doors plunge you down (two guests at a time) through clear intertwining tubes before sending you careening into the waters below.
5. Puihi of the Maku Puihi Round Raft Rides
This multi-person raft ride is so much fun! As you enter the lava-tube path, you twist and turn through the darkness as you travel through the winding cavern. Your heart will race and your stomach will drop as you explode out to the giant funnel and splash your way out to the bottom. Up to 6 people in your party can ride at once, making it a great ride for families and groups of friends.
6. Kopiko Wai Winding River and TeAwa the Fearless River
This lazy river ride is a winding river ride that takes you through the tropical landscape of Volcano Bay with water sprays throughout the way. You'll also get a stargazing surprise of a night sky in the cavern. If you like a lazy river, this is a fun spin on a classic lazy river ride.
If you like a lazy river, The TeAwa Fearless River is a not-so lazy river ride and a fun spin on a classic lazy river ride. Much less relaxing, much more fun.
7. Taniwha Tubes
This twisty turny two- or four-person tube ride is inspired by the roots of the puka tree. The spraying tiki statues will add a surprise when you least expect it.
8. Dining for all interests
Whether you're looking for kid-friendly meals to higher-end grown-up fare, you can find more than 60 unique menu offerings throughout Volcano Bay's dining options, all inspired by the flavors of the South Pacific, available at food carts and restaurants. My oldest daughter and I spent a week vacationing in Florida and this was her favorite day of dining of everywhere we ate! We loved the sushi option at Kohola Reef.
9. Cabanas and Loungers
These go quickly. We were able to secure loungers the day we got there, but the cabanas were all sold out by the time we arrived. While the loungers were nice, I'd highly recommend having the cabana. It's a nice central location, your items are protected (a safe is included), it's shaded, a server is included, you can sign up for rides using the TapuTapu at a kiosk in your cabana, and you get wifi, which we all know every tween and teen wants throughout the day. WINNING.
Pro tip: Stay at Universal's Cabana Bay Beach Resort and you can take a short walk over to Volcano Bay! There's a short dedicated walking path between the resorts!