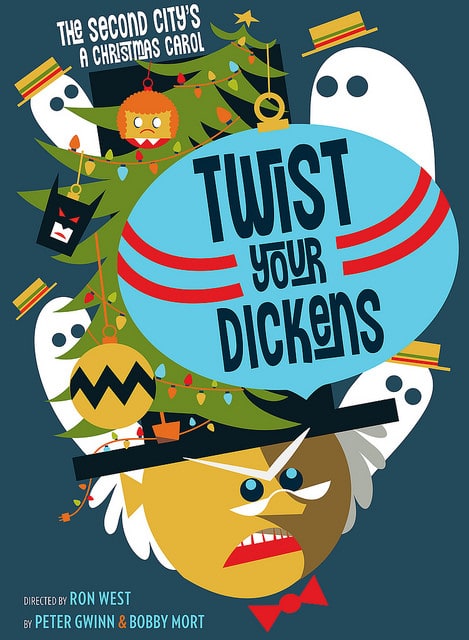 If you love adult comedy and a lot of laughs, you must get to Portland Center Stage to see Twist Your Dickens before the show ends December 24, 2014. The Second City's A Christmas Carol: Twist Your Dickens has taken the stage at PCS for another year of holiday mayhem.
Twist Your Dickens debuted at PCS last season, after its world premiere in 2012 at Center Theatre Group's Kirk Douglas Theatre in Culver City. This season brings two new Second City veterans to Portland: Director Ron West and actress Jaime Moyer. Returning to star as Scrooge is The Second City alumnus Craig Cackowski (a regular on the hit TV show "Drunk History"). The troupe of local comedic talent that delighted audiences last year is also back this season: Chantal DeGroat, Sam Dinkowitz, Nicholas Kessler, Lauren Modica, and John San Nicolas.
I'm a huge fan of The Second City, and there have been so many famous alumnus out of improv-based sketch comedy theatre. The Second City is world renowned for its unique and genius brand of humor and satire, as well as for being the launching pad for generations of comedy superstars, including Mike Myers, Bill Murray, Martin Short, Gilda Radner, Scott Adsit, John Candy, John Belushi, Jim, Belushi, Tina Fey, Steve Carell, Stephen Colbert, and many, many more. The fact that you can see talent from The Second City here in Portland is worth the trip in and of itself.
The adult comedy Twist Your Dickens is a complete send-up of the holiday classic featuring the improvisational genius of the legendary The Second City. Hilarity at its best. I laughed the whole time, as did most of the audience. The audience participation portion add so much to the show. You could see it several different times and the show will be different each time. The show is recommended for ages 16 and up, as there is mature language and situations, but there were plenty of middle- and high-school aged students in the audience.
The show includes zany holiday sketches, uproarious improv based on audience participation, and an ever-changing list of drop-in local celebrities. We got to see weather man Matt Zaffino). Peter Gwinn and Bobby Mort—Emmy Award-winning writers for The Colbert Report—wrote this sidesplitting take on the Charles Dickens' Christmas novella.
I received tickets to the show in exchange for my honest review. All opinions are my own.