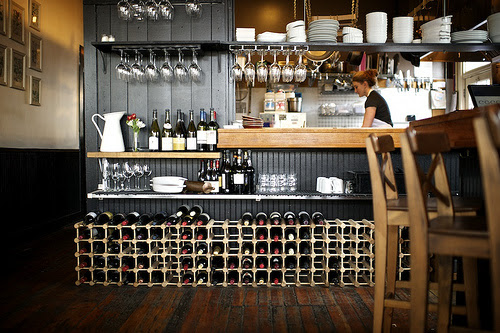 I recently had the opportunity to dine at Cocotte, housed in a 1930s grocery in the Concordia neighborhood of NE Portland. Cocotte's chef Kat LeSueur is one of Portland's hottest up-and-coming chefs, having received accolades from the Oregonian's Diner and Willamette Week's Dining Guide. Kat recently expanded the restaurant to create an intimate, 16-seat private dining room in addition to the cozy French bistro that already existed.
The bistro offers a wonderful atmosphere—cozy, romantic, rustic. But wait until you taste Kat's cuisine. Kat's creative twists on classic French cuisine will knock your socks off. Here's a peak at the 6-course meal we sampled, complemented by perfect wine pairings. Kat does not use beef in her restaurant (for sustainability reasons) and places an emphasis on seafood and small animals. (Please ignore the lighting in the photos from my iPhone…we had the lights down for ambience, and halfway through the dinner we realized we could turn up the lights for better photos since it was just our group in the room.) If you want to see amazing photos, Aubrie was our photographer for the evening and you can see her beautiful work here.
Snacks
Lovely passed hors d'oeuvres paired with Sparkling Vouvray NV.
Steelhead
Paired with Tavel Rosé, E Guigal, Côte do Rhône, 2011
Clams
Paired with Domaine des Dorices, Muscadet, Loire 2011. This clam dish was fantastic. I don't generally eat many clams, and I simply don't eat mushrooms. I could have licked this plate clean (had I not been in a restaurant, of course), including the mushrooms.
Cheese
We sampled Cabra al Vino Goat Cheese, Pear and Radicchio, Pickled Onion and Picholine Olive paired with Ravaut, Borgougne Rouge, Lorraine 2008. (Tis is about the time we turned the lights up.)
Rabbit
Valrhona Gnocchi à la Parisienne with Nicky Farms Rabbit Leg Raoût, Smoked Rabbit Loin, Rabbit Liver Mousse, Celeriac, Fennel Pollen paired with Lucien Lardy, Beaujolais, Moulin-a-Vent 2012. The gnocchi was seasoned with chocolate. The flavor profile was dramatically changed when paired with the Beaujolais.
Duck
Possibly my favorite course of the night (although they were all amazing!). Paired with Fausse Piste, la Pyramide Syrah, Columbia Valley 2010. I have just one word for this duck dish: phenomenal. The duck practically melted in your mouth and the wine pairing was simply perfect.

Chocolate
Paired with Lustau Añada 1997 Vintage Sherry, this dessert was the perfect end to a delectable meal.
I LOVED Cocotte. I can't wait to go back. If you are looking for an amazing French-inspired restaurant in Portland, I highly recommend Cocotte.
If You Go
Location: 2930 Northeast Killingsworth St, Portland
Drinks: Full bar, with beer and wine selections from around Oregon and beyond
Hours: Open for dinner daily at 5:00 p.m.
Happy Hour: Tuesday–Saturday, 9:00 p.m. to close. All day Sunday and Monday
Credit Cards: Visa, Mastercard, American Express, Discover
Seats: 26 in front room, dining for up to 18 in the private room
Parking: Free street parking
Thank you to Kat and Heather Jones for hosting the blogger dinner I attended.