When I was in LA last month, I was lucky enough to have a behind-the-scenes tour of the set of the new Disney Channel show BUNK'D, as well as a meet-and-greet with the cast of the show. These young talented actors are awesome.
Reprising their starring roles from Disney Channel's hit show "Jessie" are Peyton List (The Outskirts, 27 Dresses, Diary of a Wimpy Kid: Dog Days) as Emma; Karan Brar (Diary of a Wimpy Kid, Diary of a Wimpy Kid: Rodrick Rules, Diary of a Wimpy Kid: Dog Days) as Ravi; and Skai Jackson (The Watsons Go to Washington) as Zuri. Joining the cast are Miranda May (The Heartbreak Kid, "Samantha Who?") as Lou; Kevin Quinn ("Shameless," "Chicago P.D.") as Xander; Nina Lu as Tiffany; and Nathan Arenas as Jorge.
The premise of this new live-action comedy is that siblings Emma, Ravi, and Zuri Ross have left their New York penthouse for summer camp at Maine's rustic Camp Kikiwaka. Camp Kikiwaka is where their parents met as teenagers. Emma and Ravi step into new roles as CITs (Counselors In Training), learning how to be resourceful, responsible role models to their campers. Lou (the cheerful head counselor) and Xander (the camp heartthrob) befriend the Ross kids, who are complete fish of water in the great outdoors, and step in to show them the ropes. Zuri makes new friends with her fellow campers the anxious and overly-studious Tiffany and compulsive fibber Jorge. Along with their new friends, Emma, Ravi, and Zuri adapt to their new home-away-from-home and settle into their exciting new lives at Camp Kikiwaka.
Chatting with the cast was fun. The young talent is always a blast and extra fun because they are all about the selfies and fun poses. It's also memorable and entertaining when the Disney tog captures the moments like you and Miranda Miranda May taking a selfie or someone taking a photo of you and Peyton List.
We got to sit at the picnic tables in the dining hall to do our interviewing, so we were on set the entire time. Just seeing the details that are part of each scene is incredible. The table settings, the décor in the dining hall. Every detail has been thought out. We basically felt like we were at summer camp while we did our meet and greet with the cast.
It's also always neat to hear what the cast has to say about auditioning for their roles, especially for new actors like Nina and Nathan, where this is there first time being on a show.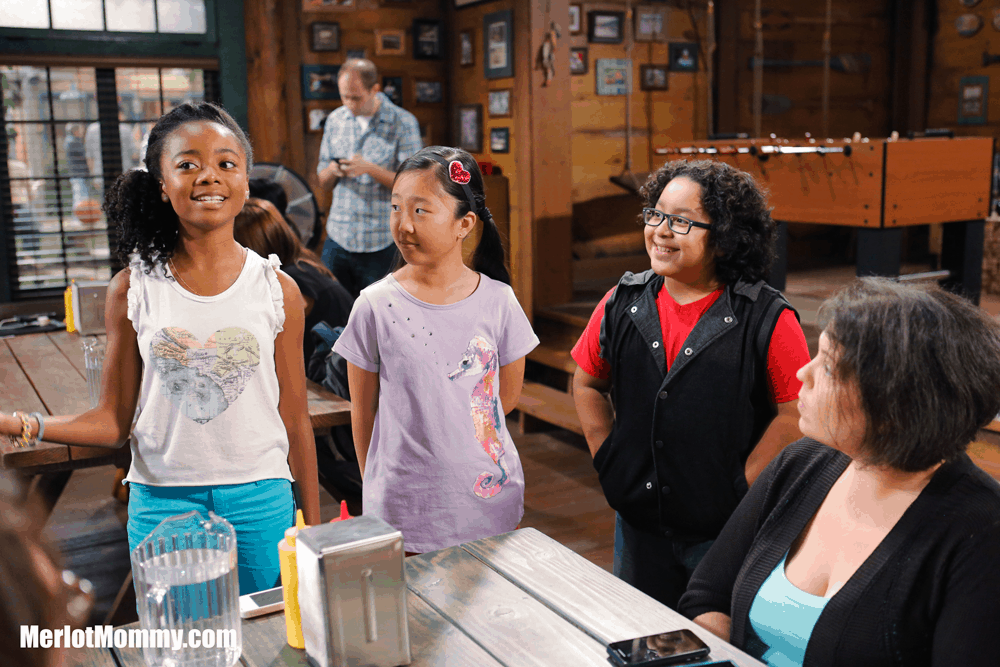 On their favorite thing about working on the show
Skai: Hanging out with everyone and the cast. Having me, Peyton, and Karan together again is pretty Awesome.
Nina: Hanging out with everybody, and seeing how everything works in the T.V. world.
Nathan: It's awesome hanging out with the whole cast because they're really nice and really sweet. They're awesome.
Karan: Ravi embraces that he's a weird dude.
Kevin: Something I love about working on the show. There's something you learn from working on the show. I've done 5 episodes, so I'm very new to the industry. One of the coolest parts about being on the show is working with all of the people who have done it before. You learn a lot about what it means to cheat out to camera, what it means to project your voice, how to improve your performance. Everyone on this team is rooting for us. It's a whole family here. We cherish it.
Karan: You have so many experienced people here. Behind the cameras, you get to learn so much from them, you get to fix up your craft.
Miranda: I never got to go to summer camp when I was younger. I always wanted to but I never got the chance, so now I get to go.

On what made them want to be actors
Skai: I started out at 9 years old in print first, so I really had no choice, but as I got older I loved it. I used to watch Raven at 4 years old and she was one of my inspirations at a young age. I wanted to be on the Disney Channel. And here I am. I'm so proud my dreams finally came true.
Nina: I started taking acting classes and then met up with a manager and started getting auditions, and I got auditions for this show.
Nathan: Same with me, it was really quick, like one month. I didn't know my first audition would be for this show.
On going to school and acting
Skai: It's not really hard. I've been doing this since I was 9 and whenever you aren't working you go straight up stairs and do school work. People think we don't do school work because we act, but we do. We might not do as many hours,maybe one hours less, but it's pretty easy and it's not hard to manage at all.
Nina: It's less people here. I used to go to a public school with a lot of people, but here's it's just us. Next year we'll all go to the same school.
Nathan: Yeah, next year I'll go to a school where the celebrities are.
On what their friends think of them being on a TV show
Nathan: They're actually really jealous. They were asking me the other day for my autograph.

On how much of their characters are like them in real life
Skai: Well, me and Zuri, we're both kind of sassy sometimes, and that's our main thing that I'm similar with her in. We do have our differences, like in fashion. We don't really dress the same. I wouldn't wear this but Zuri would. But I just love playing Zuri and I'm just happy that there will be another 3 years of playing her.
Nina: My character is an exaggerated version of me because I'm not that smart, but I'm not that dumb I think.
Skai: She's pretty smart.
Nathan: Yeah, she's really smart. She figured out a 7th grade math equation the other day. Jorge isn't really that smart, he's more active and more upbeat, but I'm more, if I met somebody, like all of you guys, I'd be shy right now, but I can't. I'd be sitting over there in the corner. But I just get used to it.
Miranda: I felt since my character is a tomboy she wouldn't have a high-pitched voice at all, kind of like one of the guys. So I roughed her up a little bit.
On working on "BUNK'D" vs. "Jessie"
Karan: It's a different experience, but it's the same family environment as with "Jessie." In fact, it's the same production office, but we just changed the signs to "BUNK'D." We get to produce the same quality we did on "Jessie" and make more amazing episodes than we did before, but we have new family joining us and more people joining our family, and we are expanding our boundaries, which is really cool. So it's not too different but it's a slightly new different whip-less set, too, so the set's a slight change considering the new camp, but it definitely awesome and it's nice to see how our characters change in the shows. Our characters get to grow, just like any normal human being would.
Kevin: The writing team is outstanding here. They make sure our character's evolves and that we learn more about our characters with each episode, and that's really important, because that helps us learn about us as actors and about our characters, too.
Karan: It's not mindless direction.
Peyton: We have four cameras instead of a single cam. We move pretty quickly. Hurry up and wait doesn't really exist here. Go to set, go back to school, go back to set.

On what they bring to their characters
Karan: I get my sitcom moments off screen. I get to funnel all of my energy in to my character.
Kevin: With Xander, he's a happy guy. He's a happy go lucky guy. He's so positive. He's no slap happy, but he's very put together and a happy guy. As Kevin, I always do my best to put a smile on my face every morning because attitude is everything, and it can make or break you.
Karan: What will be great for boys is that that will be able to look up to Xander in a really cool way.
On what they aspire to other than acting
Miranda: I'm actually a stand-up comedian, as well. I love fashion, and I want to have a fashion line one day. I'm a curvier girl, and sometimes the cute stuff doesn't always come in our sizes. So I want to have a fashion line for all shapes and sizes.
Peyton: I want to work at a magazine someday or maybe intern there and maybe learn the ropes because I'm really interested in that. Whenever I have an interview I want to sneak back an look behind the scenes.
On the production schedule
Peyton: On Monday we have a table read, so we sit around the table and read the script.
Miranda: On Tuesdays we have a producer's rehearsal where we go through the entire show on set so they can see it in action, and then on Wednesday we do it for the network after they've edited it a little bit.
Peyton: And on Thursday and Friday we shoot.
"BUNK'd" premieres on the Disney Channel On Friday, July 31 immediately following Descendants.
I've been invited to LA courtesy of Disney for a media event. All opinions are my own.