We're big Star Wars fans in our house. We were so happy when Hasbro reached out and asked us to help celebrate the release of the Star Wars: The Force Awakens on Blu-Ray/DVD on April 5. (While Hasbro sent us a fun box of goodies to celebrate, all opinions are our own as they always are. This post contains affiliate links, meaning that when you click on a link that we recommend, we may receive a teeny weeny commission if you purchase a product. We wouldn't be doing our job to pay the bills if we didn't monetize somehow.)
What's better than watching the newest Star Wars movie as an in-home release? Watching it with a party pack of fun! Star Wars: The Force Awakens is now out on Blu-Ray/DVD and we've now watched it a few times (including the extra scenes, which are the best). Hasbro sent some fun extras, like paper party supplies, toys, games, and more) to help get the party action started. I won't lie, when that box showed up on our doorstep, it was a happy day. I wasn't sure who was more excited—me or the kids.
The box was delicately opened and inside the Star Wars treasures revealed. Instantly there were oohs and aahs. The movie came right out of the package and into the Blu-Ray player; thank goodness for no homework that night.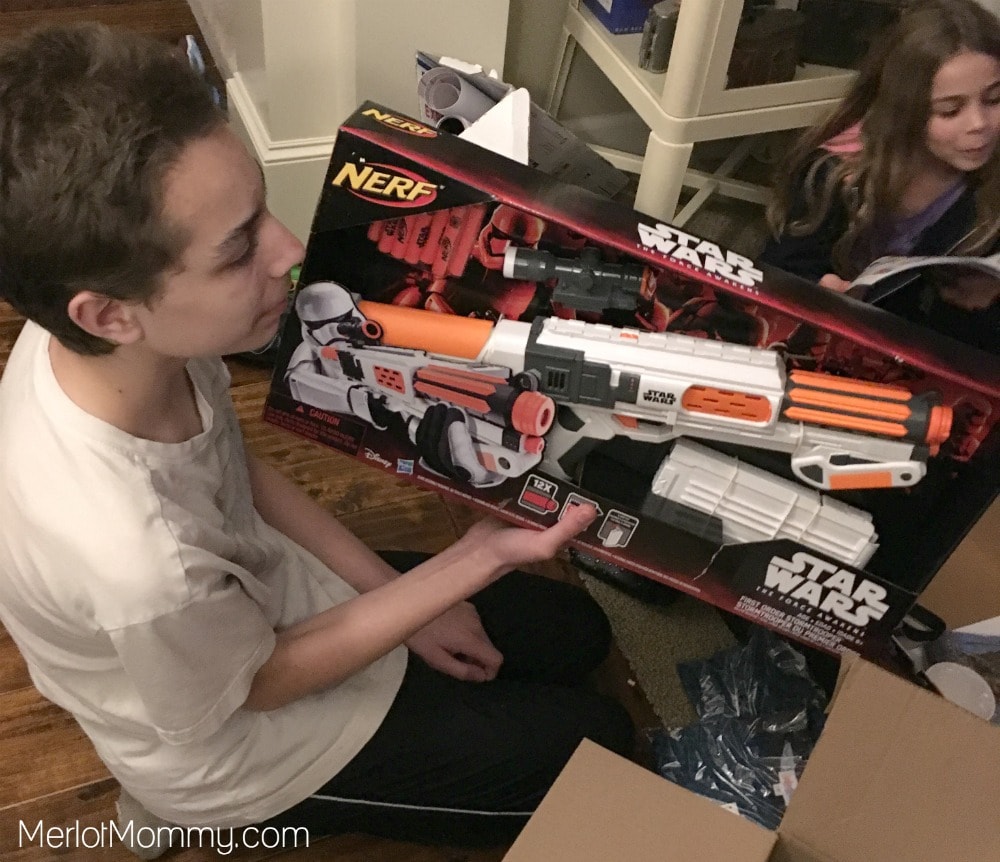 My son was dying to get his hands on that Nerf Star Wars blaster gun. But first, the movie! Popcorn, soda, and Episode VII filled our house on the night of April 5th. And the paper goods Hasbro sent made clean up a breeze.
When the movie was over, the fun continued with Kylo Ren's lightsaber (Star Wars The Force Awakens Kylo Ren Deluxe Electronic Lightsaber) and Kylo Ren Mask and the Stormtrooper mask and Star Wars Nerf Episode VII First Order Stormtrooper Deluxe Blaster. My son and daughter have been dueling as Rey and Kylo Ren or battling between Stormtrooper and Rey; it all depends on the mood. My daughters have also been having fun with character toys (although BB-8 may have taken up permanent residence on my desk). The R2-D2 Bop-It game we can't get enough of. It's our favorite version of Bop-It yet (and we gave several). The voice is perfect and the commands are hilarious.
Have you brought home the Star Wars: The Force Awakens on Blu-Ray/DVD yet? What are you waiting for?