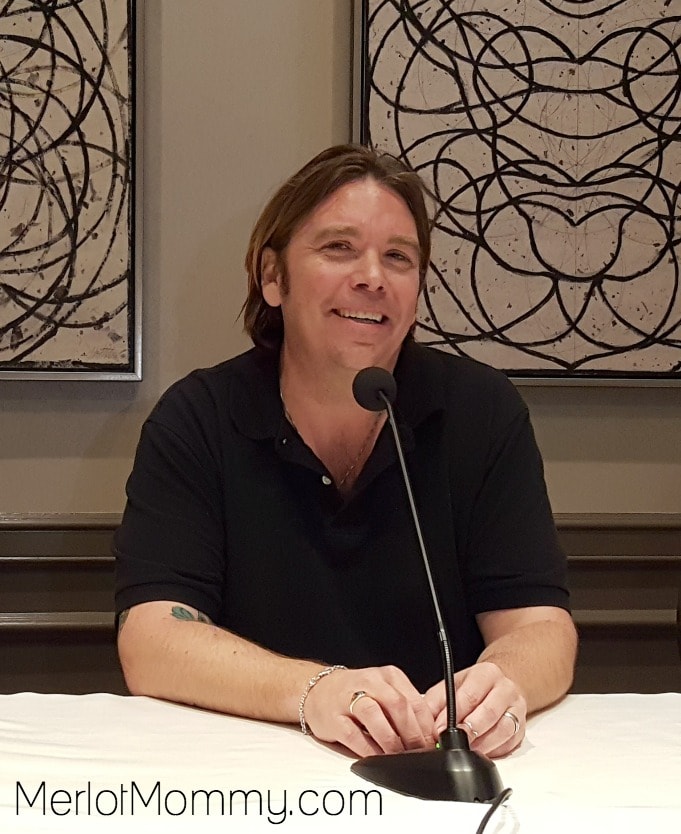 Earlier this month I had the pleasure of interviewing some of the talent behind the new Ratchet and Clank movie out in theatres on April 29th, 2016. Kevin Munroe is the director behind the film of the iconic Playstation video game Ratchet and Clank. Maybe best known as the director of the 2007 version of TMNT, Munroe talked to us about translating video games into movies, telling stories, and humor.
Does having worked on both movies and vide games give an advantage in being able to translate this video game into a good movie?
KEVIN MUNROE: At the end of the day, it's all about just finding a good story, and really trying to find that. My first in was through video games. And [Shine Entertainment] had done a game called Earthworm Jim felt like you were playing a cartoon. And so that, to me, always resonated. And from that project I think gave birth to a lot of projects like Ratchet and Clank, and these very character-driven kind of properties and stuff.
I think knowing kind of the background of that, I think I tonally knew what everybody was going after. It was a very familiar world for me coming from the silliness of that sort of Earthworm Jim era, like Hooper, and Crash Bandicoot, and all those things came about.
What's great now is that it's all about the story. It doesn't matter if it's a game, or if it's a movie, or a TV show. It's all about just experiencing—even on your phones—you can just experience a story anywhere. And so ultimately, it came down to that.

On music and score
KEVIN MUNROE: Evan Wise is the composer. It was his first film, I think, that he had fully composed. And so it was fantastic. He had been working for years, obviously, composing stuff. But just to be able to give him an entire film like that. It was a crazy journey because the movie has so many elements in it, in terms of comedy, and action. You're mixing a lot of tones. And so you need something, I think, that sort of ties everything together. And to me, the music was the chance to really do that.
He hit some parts that were really great, driving action, and other parts that were, just sort of had that ambling kind of heart. And then at the same time, he really worked in this fun thing, where it was almost like a Carl Stalling Looney Toons kind of vibe, where we'd have a joke, and then the score would go like, "Do-do-dodo."
There are so few movies that you could get away with that, and definitely none of the big studio sort of animated films like that. So I think what was fun with this is that we sort of have a vantage with Ratchet, where you can give those sort of nods. And to do them musically was great.
What inspired you to write Ratchet and Clank, and what's the biggest challenge making the movie?
KEVIN MUNROE: What inspired me to write it? There's something called a first draft, where the first writer, T.J. Fixman came in. And T.J. actually had actually worked in the video games, I think for over 10 years or so, and he had a fantastic first draft that was just filled with so many characters, and so much story, that my job came in, and it was basically just to find the movie that we were telling within that, because there were all these other stories—where we met his dad at one point in the script, which is a great story line, but that's its own movie, you know. There's already enough in there. I know that we pushed the boundaries.
The biggest challenge was, I think, because the game has been around since 2002. And so the thing is, whenever you have something that's so big, it's almost like Lord of the Rings, you know, where you've got 10,000 stories that these guys have gone on and done, and adventures, and characters. The question really becomes, "What's the story you want to tell?" Which is what we wanted to tell: how Ratchet and Clank met, and how they got to become the heroes of the galaxy, and basically making sure that you can just tell the story, just using the elements to make sure you can do that to start. And then hopefully if everything goes well, we get to tell a whole bunch more stories.
On the voices an actor selection
KEVIN MUNROE : You know, it's funny, especially with animation I don't like to fall prey to the whole "We need to get a name actor in there." To me, it's always just about the character. And so sometimes it's worked out really well. Whenever we did the Ninja Turtle movie, in 2007, it's specifically with that, and also because James was my Leonardo in that, and James is Ratchet here, which is a crazy coincidence. But it was always about the character. It was never about, "Can we get Brad Pitt to come do the voice of Leonardo" or something because it was always about that character's in there, so you need to have somebody who reflects that character. And so it was very simple when it came to the characters that were already in the franchise, like Ratchet, Clank, Qwark, and Dr. Nefarious. When it came to these new characters, what was great is that we just sort of created a character type.
And the entire casting process, even though everybody likes to get really good names on the poster, and we have fantastic names on this poster, at the same time, it was always about do they service the character because I just would not want to hear Sly doing the voice of a meek little child or something, as an example. So what was great is everybody came along, and they just they took the character from there, and owned it, and sort of gave it their own twist, and developed it. And so it was great.
So in short, it was always about the character to me, and sort of finding the character, and never casting the name. But we lucked out, and we got both.
On video game movies being driven by the video game studios versus being driven by Hollywood. How do you find that that makes them more successful?
KEVIN MUNROE: I think it gives you an incredible chance to make the movie strong, especially in animation, but in any movie, really. I love just the idea of hearing a voice. I just love to hear a POV. And a lot of times, whenever you get like a factory output, like at another, at a bigger studio or something, where it's just, "We're just gonna take the property, and let's just make a movie," and it doesn't really pertain to what it was that drew us to it in the first place.
And so I think it's an advantage whenever you can use it right. We had a really great situation with Insomniac, because they obviously care a lot. A lot of video game companies are notoriously protective of their children, and they really hold on tight—which is great, and that's what you want. But at the same time, there are other companies that I've worked with that the Mommy squeeze is almost too tight. And you're like, "You're gonna kill him." You have to let go in order for it to evolve, you have to bring in people who do what you're doing, because if I could write a great poem, but if you're telling me how I need to sing it as a song, I'm like, "That's not my area of expertise. I don't do that." And so with this, it was a great balance, because Insomniac knew where we wanted to go with it. Tonally, they knew exactly where it needed to be. And it was just about supporting it. And to me, it was all about not reinventing the things that already worked. Look a picture of it. Why would I even have the audacity to go in there and say, "The movie should look differently than what those awesome games look like?" Let's just make it look like a movie version of it. That's the only thing I can bring to the table." But ultimately that's the core of what's there, I think. I think it gives smart producers and smart studios a chance to get a really unique vision on screen.
The fans for this game are very, very passionate. What was some of the biggest challenges in bringing their video game world to the big screen?
KEVIN MUNROE: It's funny, because I've had my run-ins with a few different fan groups, in terms of properties. And everyone has a different tone. Turtles fan groups were very, very wary because a lot of people have interpreted Ninja Turtles in a lot of different ways. So a lot of it was like, "Okay, what are you gonna do with it? How are you gonna screw this up?" kind of thing, whereas like the Ratchet fans have been so supportive, which is crazy. So I'm sort of not used to that energy. I'm kind of waiting for somebody to come, and like slap me on the back of the head, or somebody's kneeling down behind me to do the bully push or something. But no, it's been an incredible fan base to work with. And so really, the biggest challenge is that games are such a user-driven way of ingesting a story, or entertainment.
It's like comic books. You control how fast you flip. You control how much you stare at a panel. So you're really directing it whenever you're doing that. And so when you play the video games, it's pretty much the same thing. And so the notion of any time you do an adaptation like that, is that you have to find the tone of what works for the people who love it. And then your job is to then translate that love into another medium. And so you try to take what people love about that, and stay true to that. So it has to be less about the details and more about the feeling, and more about the tone, because eventually it has to become a movie. I think we really kind of threaded the needle with this one.
On navigating the game, cartoon movies, and subliminal adult humor
KEVIN MUNROE: Other than "Kick some asteroid." It's crazy. Yeah, whoever's doing all those campaigns, and the tags with—some of them are pretty racy. As a parent, I'm just kind of like, "Ooh, really?" But okay. The best part is it's always really true to what Ratchet and Clank is. And they've always had it. Some of them are super cheeky, like "Up your arsenal" and stuff like that, for some of the video games that they've done. It was never a Shrek nod to parents. The Ratchet and Clank people who created that, and they did those puns, they did it for the people who consumed it. It wasn't for the parents of the people who consumed it. There's always gonna be people who always want to have, like, "Oh, if Transformers just could have been R rated, it would have been so much…" But you're like, "No, it's Transformers. Come on." And so in the same way with this, you look at the majority of these games have been rated E10, maybe. And so yeah, you can, of course, have a PG13 Ratchet movie. I don't know if you need it, though. And so a lot of times it was just staying true to what Insomniac had already done, and not screwing it up.
On whether or not working with Georg Lucas influenced his creativity
KEVIN MUNROE: A huge influence, you kidding me? It's funny because he's one of the chief reasons I do what I do. I mean, it was 1977 when that first movie came out, and I was in a Red Theater, with the curtains opening, and I actually had—I talk about it like it's the 40s. But it was a box of the red and white striped popcorn—it was such a clear moment; and at that moment, getting the toys, and coming back and re-creating that, to me, well, I couldn't tell you it was movies at the time, but the notion of taking these characters, and having them do stuff. And I remember sitting down with my dad, it was on, it was the day after Christmas, and I'd gotten like a Vader and a Storm Trooper. And I was trying to re-create the thing that I had seen in the movie. And so I told him. And he was the Storm Trooper and I was Vader. And I said, "Tear this ship apart until you find those plans." And my dad said, "But if we tear the ship apart, we're gonna die in space." And I was like, "Ahhhh." And so I think that was the moment when I became a director.
It was incredible. It was film school, all over again. I admire that guy so much. And it's one of those things where everybody has their opinions of what they think about him. But to be able to go and work with him, week in and week out—in editorial, specifically—'cause like if he has one sandbox that he plays in, it's to take a movie and to move things around, and figure out what it is. And so I just learned so much. It was more film school than I think I'd ever done before in my life. And it was like 4 years of incredible work. It was great.
Are you more passionate directing, or writing?
KEVIN MUNROE: Storytelling. That's just a lame answer, but it's true. I would say because it probably is more of a director's medium for what I like to do, because I love the combination of just visuals, and words, and music, and color. And I love the idea. I started out mostly doing character design. I think my first job was on Hey, Arnold at Nickelodeon doing character design. And just the notion of when you design a character well, just from the way they dress, to the way they stand, to the way their hair is that can inform story, that can inform who they are. And I love the idea of when a design is so crisp and clear that you just go, "I need no words, at all." And so to me, I think that's probably the directing aspect of it. I just love the combination of all those things, and figuring out and the balance of it. With this one, it was great, because I had never worked with Rainmaker before. They're a fantastic studio. But I'd never really worked with most of the department heads, or any of the people there. And so it was all just kind of like jazz. It was like, we were on a tight schedule, and we knew we had to make the movies, and just showed up. And like, "This is what I do. And how do you play?" And this guy, "Well, this is kind of like what I do." And so we'd take that, and then move it, and then sort of combine it with everything that Insomniac had created. And so that's such a rush for me. I love that.
How different is it to direct a video game, versus directing a film?
KEVIN MUNROE: It's just a different pencil, I think for the most part. It's taken a while because I think at the beginning, you sometimes think because it's live action it has to be this way, but directing a live action film is really not much different than directing animation. It all comes down to lighting. And no one ever has enough money for lighting, whatever it is, every time. It always comes down to that. And so it's always just about the story and characters, and finding something fun you want to say. And then it's a matter of just kind of knowing the tools of that medium. But to me, my journey has been more about just discovering that it just needs to be about story, and then letting your actors just own the character, and let them create it with you, and not specifically having all the answers. I think, one of the biggest things. It's just a really good story.
Ratchet and Clank Official Trailer:
Ratchet and Clank "Meet Clank" Clip:
Ratchet and Clank "Awesome" Clip:
Voice Cast: Paul Giamatti, John Goodman, Bella Thorne, Rosario Dawson, Jim Ward, James Arnold Taylor, David Kaye, Armin Shimerman, and Sylvester Stallone
Directed by: Kevin Munroe
Written by: T.J. Fixman, Kevin Munroe, Gerry Swallow
Produced by: Kim Dent Wilder, Brad Foxhoven, David Wohl
Get Social:
#RatchetandClank
Facebook | Twitter: @ratchetmovie |Instagram: @ratchetmovie | Official Site
I was invited to an all expenses paid press trip courtesy of Focus Features. As always, all opinions are my own.