The new Doctor Strange in the Multiverse of Madness Trailer that debuted during today's Big Game introduced a familiar voice—Patrick Stewart, indicating that the MCU maybe bridging the Fox X-Men with Doctor Strange in the Multiverse of Madness. But Professor Xavier's voice was just one of many Easter Eggs in the Doctor Strange in the Multiverse of Madness Big Game Spot trailer.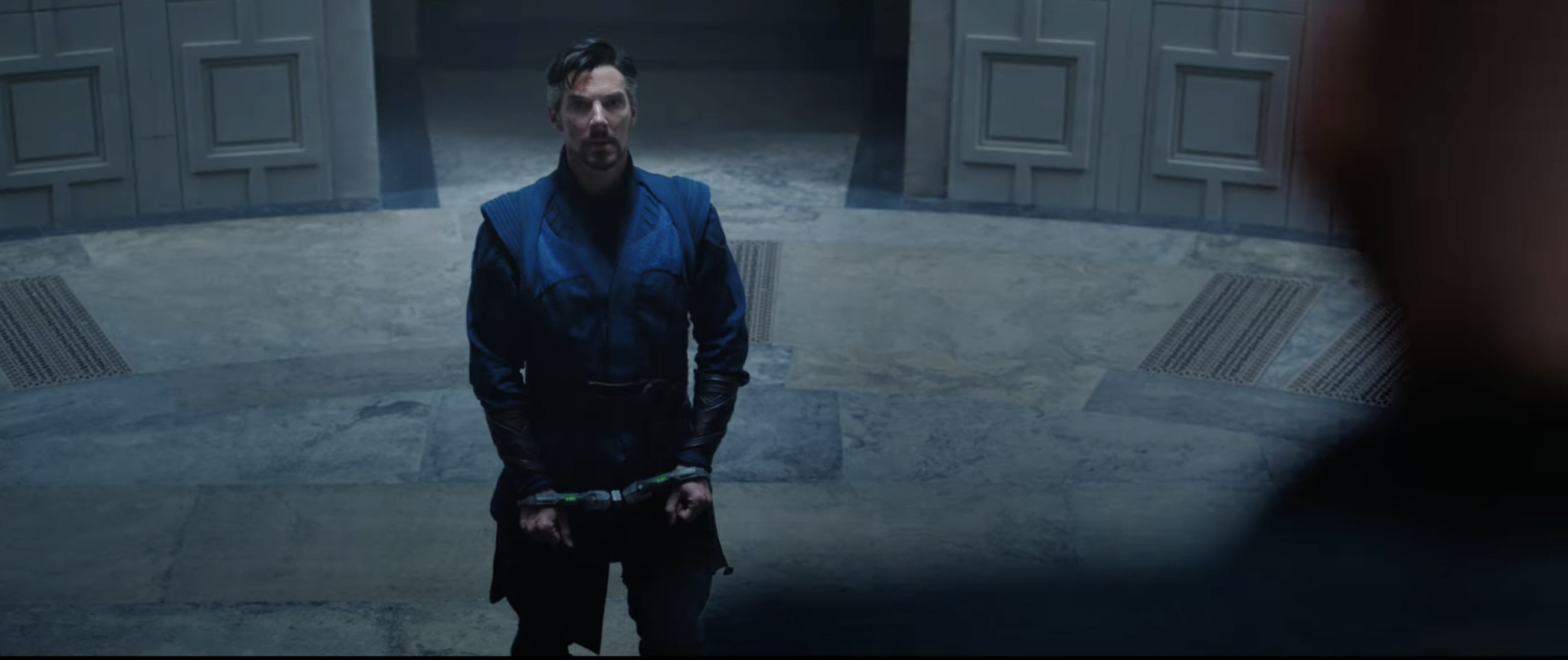 Doctor Strange in the Multiverse of Madness Big Game Spot Easter Eggs

Recurring Nightmare
The trailer opens with Doctor Strange telling how he has the same recurring nightmare. There is an image of the Sanctum Sanctorum in an abandoned field of bones and as it flutters away to ashes in a similar manner to when half of the universe was snapped by Thanos.

Doors to?
The doors open to reveal an evil face. It's possible it's Chthon, the elder god who wrote his evil works and spells on indestructible parchment and bound in The Darkhold. (Chthon left these scrolls on Earth so that they might always serve as a conduit to the Earth-Realm for Chthon's influence and power.)
There is a stairway to seemingly nowhere behind the door.

Defender Strange
Defender Strange is seen ever so briefly at this moment. Defender Strange is a member of the Marvel superhero team known as The Defenders, a crew that frequently faces mystic and supernatural threats.

Scarlet Witch
We see Scarlet Witch in Wundagore working on her astral projection as we last saw her at the end of "WandaVision."

America Chavez
We are shown an explosion and see a glimpse of America Chavez being restrained by the arms and legs by a monster of some sort. Glowing face, unwieldy limbs, and maybe a variation of Nightmare could fit given that it is a recurring nightmare Strange is having.
Strange saves Chavez, but they both appear to be fragmenting apart as the universe does the same around them
Spider-Man No Way Home tie-in
We hear the voice-over from the Spider-Man No Way Home post-credit scene. Wong tells Strange he cannot control everything.

NYC fluttering to ashes
We see New York City fluttering to ashes like the Sanctum Sanctorum earlier in the trailer a la Thanos' snap.
Vision and the Multiverse
We see Wanda in the orchard tell Strange that Vision had theories about the multiverse and they were not good.

Sorcerers watching the darkness roll in
There is a shot of several sorcerers watching a darkness move toward them, including Rintrah. Rintrah, a goat from the planet of R'Vaal, was Strange's apprentice in the comics.

Illuminati's Temple
Strange is led through the temple by bots that look Iron Legion-esque. Baron Karl Amadeus Mordo confronts Strange. This is where we hear Patrick Stewart saying "We should tell him the truth."

In the comics, The Illuminati were a covert think-tank originally consisting of Mister Fantastic, Iron Man, Professor X, Doctor Strange, Black Bolt, and Namor.

Black Bolt is shown attacking Wanda.

Sinister Strange
Doctor Strange meets another version of himself: Sinister Strange, the evil version of him seen in "What If..."

Shuma-Gorath
We see Shuma-Gorath. However, due to licensing reasons, the giant sea monster is called Gargantos. Universal Pictures released Kull the Conquerer (1997) in which there is a Shuma-Gorath, as well, so they may own the rights to the character and Marvel Studios can't use it.

Wanda in her Westview home
Wanda is seen walking through her "WandaVision" home in Westview where she sees herself in her Scarlet Witch outfit on her knees. She is in tears.

Zombie Strange
The trailer ends with the formation of Zombie Strange as seen in "What If…"
The Doctor Strange in the Multiverse of Madness Poster
Captain Carter's shield is seen in the poster, as well as revealing Zombies, The Darkhold, and Captain Marvel.
Watch the Doctor Strange in the Multiverse of Madness Big Game Spot

Did we miss anything? Leave us a comment below!
Doctor Strange in the Multiverse of Madness releases in U.S. theaters on May 6, 2022.